Billionaire Cohen, Nevada Ranch Are Top Donors to Christie Super-PAC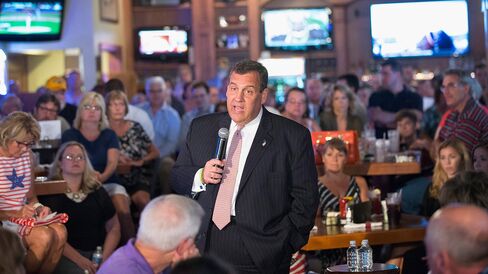 Hedge-fund billionaire Steven A. Cohen and his wife, Alexandra, have together given $2 million to America Leads, the super political-action committee supporting Republican Chris Christie's presidential campaign.
Cohen, founder of Point72 Asset Management LP, and his wife, who runs their charitable foundation, each donated $1 million, according to filings Friday with the Federal Election Commission. One other donor, Winecup-Gamble Ranch Inc. in Nevada, gave $1 million.
The cattle ranch has ties to Fireman Capital Partners Chairman Paul Fireman, who has discussed with New Jersey lawmakers a proposal to build a $4.2 billion casino in the northern part of the state. Such a project would require a constitutional amendment approved by voters.
Records in Elko County, Nevada, list the ranch's owner as PFP Associates of Charlestown, Massachusetts, which is owned by Fireman, public documents show. Fireman, who is founder and former chairman of Reebok International Ltd., didn't respond to a voicemail at his Boston office.
The three million-dollar donations combined compose about a quarter of the $11 million raised by the super-PAC backing Christie. New Jersey's two-term governor is struggling to make the Fox News cutoff for his party's initial debate. Fox is limiting the Aug. 6 stage in Cleveland to the top 10 candidates in the average of five national polls. As of today, the RealClearPolitics average had Christie in 10th place.
"We are extremely appreciative of the strong support America Leads received over the last quarter," Tucker Martin, a spokesman for the group, said in an e-mail. "Americans are responding to Governor Chris Christie's positive record of results and his bold, optimistic vision for the future of our country."
Other donors include Quicken Loans Inc. Chairman Daniel Gilbert, with $750,000; and Bridger Management's Roberto Mignone, who gave $500,000. The group got $250,000 each from Home Depot Inc. co-founder Ken Langone, WellMed Medical Management's George Rapier, Texas oilman Al Hill Jr. and Linda McMahon, former head of World Wrestling Entertainment Inc., the filings show.
Walter W. Buckley Jr., founder of Buckley Muething Capital Management Co., and John Angelo, co-founder of Angelo Gordon Investments, each gave $250,000, according to the records. Christie's wife, Mary Pat, worked for Angelo's firm until she retired before the governor's presidential run.
St. Louis businessman Jeff Fox donated $200,000 to America Leads, while former Anheuser-Busch Chairman August Busch III and Jarden Corp. founder Martin E. Franklin each gave $100,000.
America Leads, run by Phil Cox, who is a former executive director of the Republican Governors Association, reported spending just under $300,000 since it was formed Feb. 23, according to the filings. Such groups can raise unlimited sums, though they're forbidden from coordinating with campaigns.
The Christie super-PAC began airing $1.1 million of television and digital ads in the Manchester and Boston markets on July 20. It also has reserved $2.8 million of airtime from Nov. 16 through New Hampshire's first-in-the-nation primary on Feb. 9.
Cohen's Point72, based in Stamford, Connecticut, is the successor to SAC Capital, which pleaded guilty to securities fraud two years ago and stopped managing money for clients as part of a $1.8 billion settlement with the U.S.
Jonathan Gasthalter, a New York-based spokesman for Cohen, didn't immediately comment on the donations when reached today by e-mail.
Before it's here, it's on the Bloomberg Terminal.
LEARN MORE