Former Marco Rubio Donors Turning to Others in Presidential Race
The Florida senator is stuck in the middle of the polls without a clear base of support.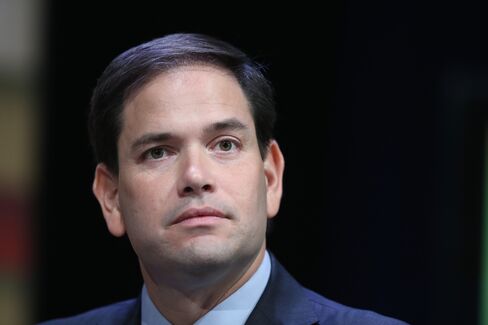 After U.S. Senator Marco Rubio decided to run for president, he asked donors to transfer their contributions from his aborted re-election campaign to his bid for the White House. More than 260 didn't.
To make matters worse, at least 64 people who were paid back gave a combined $195,800 to other presidential candidates, according to Federal Election Commission filings.
That outward flow underscores how Rubio, the one-time rising star of the Tea Party, has struggled to lock down a base of support necessary to keep him buoyed in the polls and to continue financing the travel, staff salaries, and voter outreach programs of a presidential campaign. Some of those who supported his Senate campaign said he's not ready for higher office.
"He's too young to be president," said Marie Gerwin, an 83-year-old retiree who, in her husband's name, gave $500 to retired neurosurgeon Ben Carson while taking back $120 from Rubio's campaign. "We liked him when he was running for the Senate. But as president? I don't think so."
In a sense, the refunds are a consequence of Rubio's decision to close his Senate campaign and go all-in for the White House. By law, Rubio had to refund general election contributions he received for his Senate race, unless the donors gave him permission to roll the money into his presidential campaign.
Compare that to three of Rubio's fellow Republicans in the U.S. Senate, who are running for president while keeping their re-election campaigns open. The Senate committees for Ted Cruz of Texas, Lindsey Graham of South Carolina, and Rand Paul of Kentucky are collecting contributions and spending money even while all three campaign for the presidential nomination. Their re-election campaigns have transferred a combined total of $3.15 million to the presidential committees, about 13 percent of what all three have raised in their White House bids.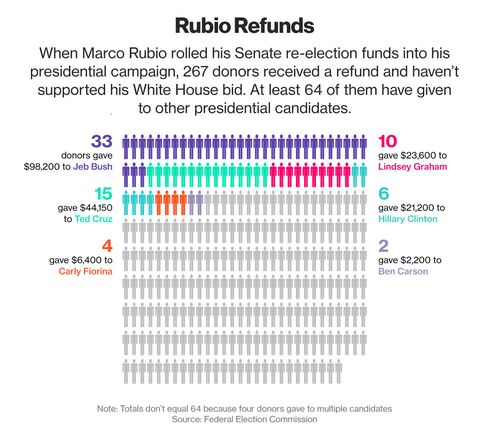 Rubio reported collecting more than $8.66 million for his presidential campaign as of June 30, less than Cruz, Carson, and former Florida Governor Jeb Bush. But it was more than Paul, and enough put him in the top tier of the 13 major Republican presidential candidates who filed campaign finance reports. The $9.86 million he had in the bank as of July 1 was the most of any Republican.
Yet with five months until the Iowa caucuses, Rubio's path to the nomination is getting more difficult to discern. Rubio's campaign declined to comment on the record.
Rubio's standing in the Republican field has sagged since his April announcement, coinciding in part with the sudden rise of celebrity real estate mogul Donald Trump, who has been leading polls for almost three weeks.
Rubio was leading the field with 14 percent support in a June 2 poll from CNN. In the same poll on July 26, Rubio tied for fifth place, with 6 percent.
Rubio was polling seventh in Iowa, the state with the first presidential nominating contest, according to an NBC/Marist poll on Sunday. In New Hampshire, Rubio was in fifth with 6 percent, according to a Monmouth University poll released on Tuesday.
"I don't know where Rubio fits in this cycle, or how he distinguishes himself," said Charlie Bass, a member of Mitt Romney's presidential steering committee in 2012 and a former U.S. House lawmaker from New Hampshire. "A lot will depend on his presentation in this first debate. That will be an important moment."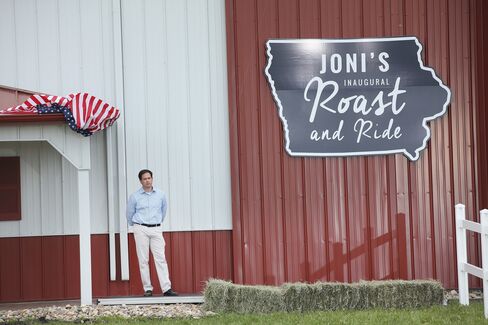 Rubio's drop in the polls come as Conservative Solutions Project, a non-profit backing him, has spent $2.6 million on television ads, more than any other group involved in the primary race, according to an NBC report. Rubio's campaign has yet to air any ads on television, reserving time from November through February, just as Republicans start picking a nominee.
Despite the middle-of-the-road poll numbers, Rubio's campaign takes solace in survey results that show Republican voters still think highly of him. In an Economist/YouGov poll release last week, 38 percent said they had a favorable view of Rubio, more than any other Republican candidate, an indication to the campaign that Rubio has room to rise.
To catch fire, Rubio must build coalitions from several different voting blocs instead of relying on one. For example, he's not a natural choice for evangelical voters, an influential group of Republican primary voters, like Cruz or former Arkansas Governor Mike Huckabee. He doesn't have as much experience on foreign policy as Graham, who is an Air Force veteran and served on armed services committees in both the House and Senate.
And he's not even the most popular candidate in his home state. Bush was leading Rubio by 12 percentage points in Florida in a Mason-Dixon poll released Friday. One poll even had Trump on top in the state.
Florida's primary election isn't until March 15, when almost half of the Republican delegates will be decided. Instead, Rubio's disadvantage here is that his home state is a huge source of campaign cash. Floridians gave more than $84 million to candidates in the 2012 presidential election, 74 percent of which went to Republicans, according to campaign finance records.
This year, Floridians have given Republican presidential candidates $5.45 million, about 16 percent of all GOP contributions and more than any state aside from Texas. But almost half of the stash from the Sunshine State has gone to Bush. Rubio collected $1.8 million in Florida in the three months ending June 30.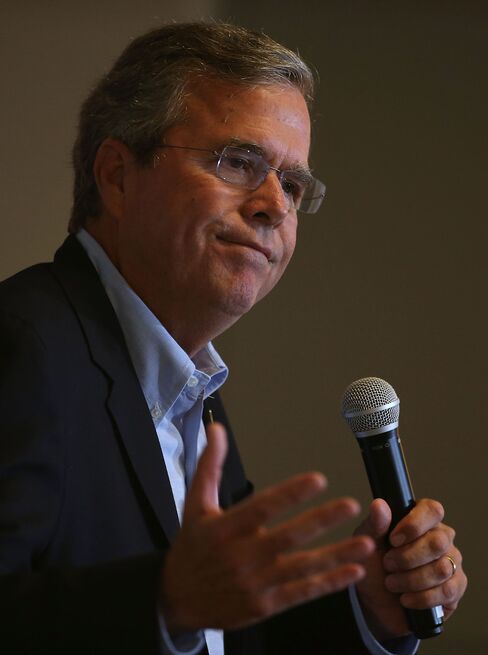 Bush was the biggest recipient of money from donors who received refunds from Rubio. The former governor received $98,200 from donors who took their money back his one-time protege.
"I like Marco Rubio as a senator, I admire him as a senator, but I think it's premature for him to run for president," Howard Leach, who gave to Bush and received a refund from Rubio, said in an interview. "I was not interested in having my funds in his presidential campaign."
Rubio reported refunding a total of $821,500 in contributions. His campaign finance report shows 69 donations returned to political action committees, and 312 given back to individuals. Among those individuals, 45 are reported as donors to Rubio's presidential committee. Of the remaining 267 people who received refunds and didn't show up on the list of Rubio's presidential contributions, about one-fourth gave to a different White House candidate.
Leach, a former U.S. ambassador to France under President George W. Bush, worked as a college student on the Senate campaign of Bush's grandfather, Prescott Bush, in the 1950s. He said he prefers presidential candidates with executive experience.
"If Marco Rubio wants to be president, he should come back to Florida, run for governor where he's responsible for results and a budget and working both sides of the aisle," the Palm Beach, Florida, resident said.
Others who received refunds from Rubio included Lewis Eisenberg, a senior adviser to KKR set to become finance chairman of the Republican National Committee; Facebook founder Mark Zuckerberg; and Sean Parker, who helped launch Facebook, Spotify, and Napster.
Among those who received refunds and gave to other candidates were Sheldon and Miriam Adelson, high-profile Republican donors who donated to Graham while he was testing the waters before his official announcement; Tesla Motors Chairman Elon Musk, who gave Hillary Clinton, the front-runner for the Democratic nomination; and Gerda Koontz, the wife of author Dean Koontz, who gave to Cruz.
Andrew Sabin of New York also took back his $2,700 donation to Rubio re-election last quarter, and gave the same amount to Bush.
Sabin, who helped coordinate a Hamptons fundraiser for Bush last weekend, said he was backing Bush over Rubio because of environmental policy.
The chairman of a precious-metals refining business, Sabin has donated $1.09 million to candidates and political committees in recent years. He described himself as a political centrist who will back the Republican nominee, regardless of who emerges from the crowded field.
"Until then, I'm with Jeb 1,000 percent," Sabin said. "And I don't want my money linked to any other presidential contender."
—Zachary Mider contributed to this article.
Before it's here, it's on the Bloomberg Terminal.
LEARN MORE