Jeb Bush's Check-My-Record Brag on Growth Doesn't Add Up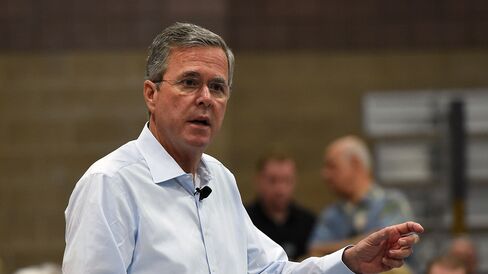 When Republican presidential candidate Jeb Bush is asked to show how he can deliver on his campaign promise to double the U.S. economy's annual growth rate to 4 percent, his answer is simple.
"I've done it," he said in a recent campaign website posting. "Check out my record when I was governor of Florida."
At first glance, the numbers support him: Florida's economy grew at a 4.4 percent pace from 1999 through the end of 2006, his years in office. Trouble is, the policies Bush adopted as governor did little to spur Florida's growth, analysts say. That is especially true of the $19 billion in tax cuts he says he made.
"Look, if there was a tax cut that could get the economy growing at 4 percent, any politician -- whether it's Jeb or Bernie Sanders -- would be pushing it," said Bruce Bartlett, an official in both the Reagan and George H.W. Bush administrations and for years a fixture in Washington conservative circles. "But there's not one, period, full stop."
He was referring to the liberal Vermont senator, who is running for the Democratic presidential nomination.
Bush campaign spokeswoman Kristy Campbell, in a statement, called the former governor's record "impressive," citing economic and job growth, balanced budgets and a AAA bond rating during his time in office.
The 4 percent figure has become a mantra not just for Bush but also many of his Republican rivals. That's at least in part because of efforts of "The 4% Growth Project" launched by his brother George W. Bush's presidential center. Candidates Scott Walker, Ted Cruz and Chris Christie have recently embraced 4 percent or more as a growth goal.
Not the Norm
While Jeb Bush has promised 4 percent growth "as far as the eye can see," the economy sustained that pace for as long as five consecutive years only once since World War II, in the 1960s. Four straight years of 4 percent growth occurred in the early 1950s and from 1997 through 2000.
"Episodes of it are few and far between," said Allen Sinai, president of Decision Economics Inc. in New York. The goal is particularly hard to reach now that productivity, which helps determine an economy's immediate prospects, is stuck in low gear.
The Congressional Budget Office has predicted that while growth could reach 2.9 percent this year and next, it's likely slide back to the 2.2 percent or so that it has averaged since the Great Recession. The Federal Reserve estimates the best it's likely to do in coming years is 2.7 percent.
Nevertheless, Bush tells campaign audiences that his Florida record proves he can use tax cuts to beat the forecasts and deliver on his 4 percent promise.
Larger Forces
A close look at the state shows that much of its growth during his years as governor was due to forces largely beyond his control, including a housing bubble.
Almost one third of Florida's growth in the Bush years was generated by construction and real estate, according to Commerce Department figures. Meanwhile, numbers from the Federal Housing Finance Agency show clear signs of a bubble, with Florida house prices rising during much of his tenure at twice the national pace, then falling more sharply soon after he left office.
Even assuming that some of the growth in construction and real estate was normal for a period of economic expansion, Wells Fargo economist Mark Vitner, who follows the Florida economy, estimates that a quarter of the state's growth under Bush -- or 1 percentage point -- was due to the bubble.
Florida's population grew at a 2 percent pace during his time in office compared with less than 1 percent for the U.S.
Population Driver
"Since population drives economic growth on roughly a one-to-one basis, the difference explains about a percentage point of the economic gap between the state and the nation," said Mark Zandi, chief economist with New York-based Moody's Analytics Inc.
When the effects of the bubble and population growth are taken into account, Florida probably still grew faster under Bush than the 3 percent rate at which U.S. economy was expanding at the time, but not by much and likely not because of his tax cuts.
Bush regularly tells interviewers that as governor he cut state taxes by $19 billion. A review of state records by the publication Tax Analysts, however, found only $13 billion worth of cuts.
The difference, according to PolitiFact Florida, an independent political fact-checking website, is that the campaign included what Floridians saved because of the elimination of the federal estate tax, which Bush's brother, President George W. Bush, got through Congress in 2001.
Tax Cuts
The largest reductions Governor Bush got enacted were cuts in Florida's tax on "intangibles," mostly stocks and bonds, that account for almost $2 billion of his tax-cut total and were similar to his brother's capital gains and dividend tax cuts.
Analysts across a wide swath of the political spectrum agree on the impact of such cuts.
"It's an open question what the magnitude of the effect of tax cuts on capital is," said Alan Auerbach, a veteran tax economist at the University of California at Berkeley. "What's not open is whether they can cause the economy to consistently grow at 4 percent. They can't."
Before it's here, it's on the Bloomberg Terminal.
LEARN MORE