Ted Cruz Calls McConnell a Liar on Senate Floor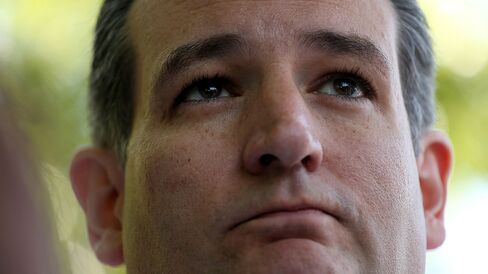 Senator Ted Cruz attacked his own party's leader on the Senate floor Friday, accusing Mitch McConnell of lying by telling fellow Republicans he wouldn't allow a vote on renewing the Export-Import Bank.
"I cannot believe he would tell a flat-out lie," said Cruz of Texas, who is seeking the 2016 Republican presidential nomination. "We now know that when the majority leader looks us in the eyes and makes an explicit commitment that he is willing to say things that he knows are false."
Cruz contended that Majority Leader McConnell had promised fellow Republicans he wouldn't allow a vote on renewing the bank's charter, which expired at the end of June. Conservative Republicans, including McConnell, oppose reauthorizing Ex-Im.
The majority leader on Friday set up a procedural vote on a proposed amendment renewing Ex-Im, which would be attached to highway funding legislation. Senators strongly backed Ex-Im in a June 10 test vote.
McConnell's office didn't respond to a request for comment on Cruz's statement.
Cruz also criticized McConnell's decision to offer a separate amendment to the highway bill that would repeal President Barack Obama's health-care law. He said that would be "an empty show vote" that would fail and called it "meaningless political theater."
Corporate 'Cronyism'
Congressional conservatives, including Cruz, want to eliminate the Ex-Im Bank. He said its work -- providing loans, loan guarantees and insurance to aid overseas sales by U.S. companies -- amounts to "corporate welfare" and "cronyism for giant corporations."
Cruz's remarks attacking McConnell represented another chapter in a history of obstructionism and combative appearances on the Senate floor. These have helped the presidential hopeful build a bigger name for himself -- sometimes at the expense of fellow Republicans.
He often uses anti-Washington rhetoric, emphasizing his efforts to fight back against banks, lobbyists and the "Washington cartel."
The first-term senator gained notoriety for helping shut down the government in 2013 in an attempt to defund Obamacare. At one point during a 21-hour Senate floor speech, he read Dr. Seuss's "Green Eggs and Ham" aloud via television to his daughters at home to help pass the time.
Cruz has also tried to stop the expansion of a program shielding undocumented immigrant children from deportation, and has made a commitment to "a federal government that protects the right to keep and bear arms of all law-abiding Americans."
Cruz Apology
His antics can lead to displays of aggravation from colleagues. Cruz apologized in December to fellow Republican senators for disrupting their travel plans with a late-night maneuver that forced the chamber into a rare Saturday session.
There are indications his approach has helped Cruz raise money for his presidential campaign. His campaign committee reported raising about $10 million in the second quarter. That combines with $4.3 million he raised in the week after his campaign kickoff in March, plus $37 million that allied super-PACs have said they raised.
Before it's here, it's on the Bloomberg Terminal.
LEARN MORE