Jeb Bush: O'Malley Shouldn't Have Apologized for 'All Lives Matter'
Bush blamed political correctness, and thus is missing the point, critics said.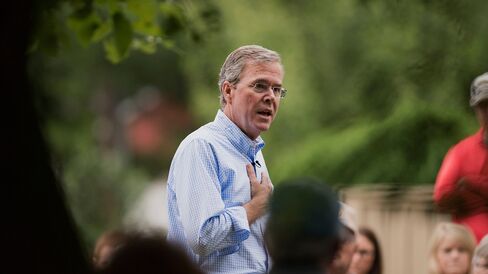 Should former Maryland Governor Martin O'Malley have apologized for saying "all lives matter?" Former Florida governor and fellow presidential candidate Jeb Bush says no.
During a campaign stop in New Hampshire, Bush was asked whether he thought O'Malley should have apologized for saying "black lives matter, white lives matter, all lives matter" while being confronted by protesters at last weekend's Netroots Nation convention.
"For crying out loud, no," Bush said, adding that if O'Malley believed what he said he shouldn't have to apologize to "a group that seemed to disagree with it."
"We're so uptight and so politically correct now that we apologize for saying 'lives matter?'" Bush said. "Life is precious. It's a gift from God. I frankly think that it's one of the most important values that we have. I know in the political context it's a slogan, I guess. Should he have apologized? No. If he believes that white lives matter, which I hope he does, then he shouldn't have apologized to a group that seemed to disagree with it. Gosh."
Video of the exchange was released by American Bridge, a liberal tracker group. The organization criticized Bush for calling #BlackLivesMatter, which started in response to police brutality against black individuals, a "slogan" and tweeted that the clip "showed how truly out of touch he is."
https://twitter.com/American_Bridge/status/624303020189331457
In an e-mailed statement to Bloomberg, Bush's communications director Tim Miller defended the former governor's comment. "Jeb said 'life is precious and is a gift from God,'" Miller wrote. "If the Democrats want to attack his view that all life comes from God and should be valued that's their choice."
Supporters of the Black Lives Matter movement are specifically focused on issues like police brutality against black individuals. It's not meant to imply that all lives don't matter, but that there are specific issues hurting the black community that need to be addressed. One example, used in a Daily Kos article, compares the difference to a woman with a burning house: all homes matter, but some are in more trouble than others. Soon after saying "all lives matter," O'Malley apologized, saying he "meant no disrespect to the point…that Black Lives Matter is making."
Before it's here, it's on the Bloomberg Terminal.
LEARN MORE