Donald Trump Heads to 'Actual Border,' Except Maybe Not
The real estate mogul's campaign said he'd be going right to the border, but his campaign issued guidance that has him miles away.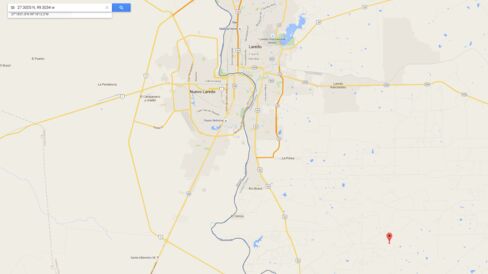 Republican presidential candidate Donald Trump is taking his campaign theme of confronting illegal immigration to the "actual Border" in Laredo, Texas, on Thursday, according to an advisory from his campaign. Except he doesn't seem to be heading all the way there just yet.
The real estate mogul will "Travel to the actual Border where (GPS: 27.3005 N, 99.3034), Mr. Trump will address the media" at 2 p.m. local time, according to the information his campaign emailed to media outlets Wednesday. The problem is that that latitude and longitude is approximately 10 miles from the border in an area southeast of town, according to multiple online mapping programs.
"Mr. Trump will learn firsthand of the many holes and vulnerabilities that the Los Zetas cartel exploits to enter Texas and oppress their victims," Hector Garza, president of the local Customs & Border Patrol union, told Breitbart News. In another oddity, the online news outlet announced that one of its managing directors had worked with Garza to set up the visit.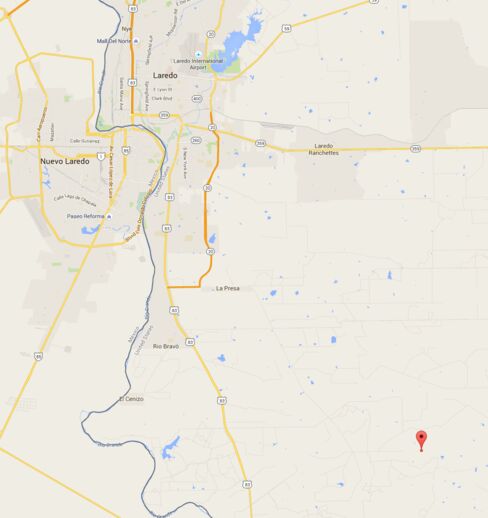 While the location described by the campaign is quite close to the border, Trump could also certainly could also get much closer to the dividing line between the U.S. and Mexico, including a crossing in Laredo. During 2014, the U.S. Border Patrol reported apprehending more than 44,000 people trying to cross the border illegally in the Laredo sector. That number was one of the highest numbers reported but in Texas' Rio Grande Valley, the number was more than 256,000.
A spokeswoman for Trump, Hope Hicks, told Bloomberg that vans would bring reporters to Trump's event but said more details weren't available yet. She did not answer questions about why the location had been chosen, whether it might be updated, or what the candidate and his entourage might see there.
E-mails and phone calls to Garza were not immediately returned.
Lauren Etter contributed reporting from Austin.
Before it's here, it's on the Bloomberg Terminal.
LEARN MORE