Chris Christie Says Donald Trump Would Be 'Frustrated' as President
The New Jersey governor and the billionaire real estate developer are both vying to be seen as the straight-talking Republican.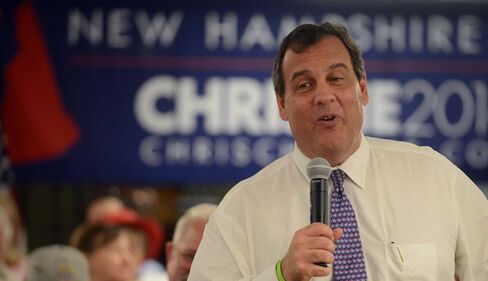 Chris Christie has a message for Donald Trump as the billionaire sees his standing in the crowded 2016 Republican presidential field grow: the president doesn't get to say "you're fired!"
Christie, whose campaign slogan is "Telling It Like It Is," entered the race hoping to emerge as the straight-talking Republican in the field. Trump has surged in polls as he attempts to claim that mantle, in part through comments such as his recent statements the Mexican government is sending criminals and "rapists" to the United States.
Christie, a second-term Republican of a state that hasn't sent a member of that party to the U.S. Senate in four decades, said in almost six years in office he's learned to compromise with lawmakers, including Democrats. Trump, who Christie said has been a friend for more than a decade, hasn't honed those chops as host of reality television show The Apprentice, Christie argued.
"You cannot look at the speaker of the House and say 'you're fired'—as much as you might like to you can't look at Harry Reid or Mitch McConnell and say 'you're fired' if you don't get what you want," Christie told about 120 people Thursday at a town hall in Franklin, New Hampshire.
"I know he says he tells it like it is, too. I tell it like it is from the standpoint of having actually done these jobs," Christie said in a town hall in Franklin, New Hampshire, as Trump appeared about 10 miles away in Laconia. "I think quite frankly Donald would be a little frustrated if he became president of the United States."
A Fox News opinion poll released Thursday showed Trump to be the first choice of 18 percent of Republicans, up 7 percentage points from last month. Christie received 3 percent support, up from 2 percent last month in a Fox tally.
Christie was asked about Trump's rise and the difference between them during the nearly two-hour meeting, which touched on subjects such as his opposition to sanctuary cities for immigrants and his belief that President Barack Obama's nuclear deal with Iran is the "worst thing" done in a failed presidency.
Before it's here, it's on the Bloomberg Terminal.
LEARN MORE