Hillary Clinton Dangles Tax Credit to Companies That Share Profits With Workers
The candidate proposes her second targeted tax credit in two months, banking on a 1990s-era political calculation.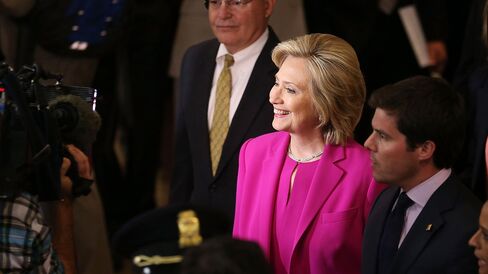 The U.S. government would give companies 15 cents for every dollar of profits they share with workers under a proposal released Thursday by Democratic presidential candidate Hillary Clinton.
The tax credit would last just two years and cost the government $10 billion to $20 billion over a decade, according to the campaign, which says those costs would be offset by closing "loopholes" that Clinton will specify later.
Evidence and studies "prove that profit-sharing with your employees is good for the employees, good for the business, good for the economy," Clinton said during a town hall meeting in Dover, New Hampshire on Thursday. "I want to incentivize companies to do just that."
Clinton's embrace of a second targeted tax credit—she proposed one for apprenticeships last month—echoes a political formulation that President Bill Clinton found successful in the 1990s. To Republicans, tax credits look like a market-based incentive. To Democrats, they're a way to mimic spending programs that could never get through Congress.
But those politics have shifted in recent years, and another President Clinton might find a tougher audience in Congress. The Obama administration and congressional Republicans both support revamping the tax code by stripping out targeted breaks and lowering the corporate tax rate.
The Clinton proposal includes several limits designed to target the benefits to middle-income workers and contain the costs for the government. Profit-sharing eligible for the credit would be capped at 10 percent of wages, small business could get bigger breaks and big corporations' breaks would be capped. The break would phase out for high-income workers.
The campaign said its plan would also include rules that would prevent companies from gaming the tax credit by giving workers profit-sharing payments instead of wages.
The plan, Clinton said, would boost productivity among employees.
"They're gonna stand up a little straighter," she said. "They're gonna work a little harder."
Before it's here, it's on the Bloomberg Terminal.
LEARN MORE