Door-Knocking Iowa Home-Schoolers Courted by Republican Suitors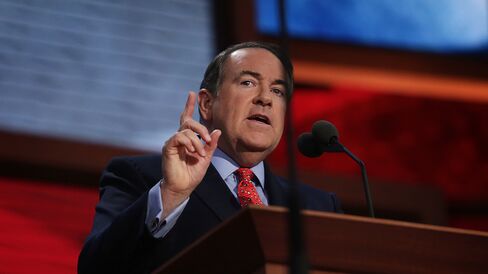 Bobby Jindal, Ted Cruz and Rick Santorum wooed them at a town hall-style meeting in Des Moines in April. So did Mike Huckabee, who one-upped rivals by bringing in the Duggars of the "19 Kids and Counting" reality TV show.
Republican presidential hopefuls are courting a small but potent subset of Iowa's Christian conservatives, those who teach their children at home. In the state holding the kickoff of the 2016 presidential race, home-schoolers are one of the most coveted blocs because of their passion, alliances with churches and the anti-government Tea Party, their training in electoral politics and willingness to enlist entire families in volunteering.
"They're like political Navy SEALs," said Steve Deace, a radio host who helped organize the April events. "Iowa's home-schoolers are one of the most organized and informed constituencies on the right."
Iowans have picked religious conservatives for the Republican nomination since 2000. Parents of the state's more than 10,000 home-schooled children helped deliver the Hawkeye State for Huckabee in 2008: Deace called their relationship with the former Arkansas governor and Baptist preacher a perfect marriage.
Home-schoolers splintered between Libertarian congressman Ron Paul and former U.S. senator and eventual Iowa winner Rick Santorum in 2012, after abandoning Tea Party favorite Michele Bachmann, then a congresswoman.
The competition for home-schoolers that year was so fierce that it sparked a lawsuit over a stolen mailing list, an endorsement-for-pay scheme and a federal criminal conviction. Home-school advocate Kent Sorenson, a state senator who endorsed Bachmann and then switched to Paul, pleaded guilty to concealing contributions from a presidential campaign and admitted to getting paid by both camps.
Wide Open
The 2016 field is even wider, which could dilute the lobby's clout. U.S. senators Cruz of Texas, Marco Rubio of Florida and Rand Paul of Kentucky, governors Jindal of Louisiana and Scott Walker of Wisconsin, former Texas governor Rick Perry, and retired neurosurgeon Ben Carson all are vying with Huckabee and Santorum for home-schooler support.
"It's not just Huckabee anymore," said Joel Grewe, head of Purcellville, Virginia-based Generation Joshua, an arm of the national Home School Legal Defense Association. The group trains and deploys teenagers for voter-turnout drives.
Huckabee, Cruz and Jindal all have home-schoolers prominent in their campaigns. Santorum is one himself. Carson was a keynote speaker at a home-schooler convention in Oklahoma. Huckabee brought in the Duggars. Perry showed up at Iowa's legislative Home School Day to shake hands.
What home-schoolers want in a candidate is ideological purity, said Iowa state Senator Dennis Guth, a Cruz backer who has benefited from their support. That includes opposition to abortion and same-sex marriage and support for "religious liberty" protections for merchants who refuse service for gay weddings.
"Religious liberty is probably the biggest issue out there right now," Guth said. "Home-schoolers are not going to look at people who are weak on that."
The phrase surfaced in nearly every Republican response to the U.S. Supreme Court's gay marriage ruling.
It was also the subject of Jindal's first TV ad in Iowa, which ran before he announced his candidacy and immediately after he overrode Louisiana's legislature and issued the nation's first religious-liberty executive order. He said the measure would let people choose whom to do business with.
Home-schoolers "really liked that," said Guth, adding that they also think Jindal is too unknown to be viable.
'Extremely Active'
The movement's potency grew out of its struggle to legalize and deregulate household education.
As part of their children's curriculum, parents now include hands-on electoral politics, deploying them for door-knocking and other vote-related tasks, said Guth, whose own children were taught at home.
Their support is more dedicated and more flexible than that of many volunteers, the lawmaker said.
"They walk in parades, they put up signs, they're extremely active," he said. "They helped me a lot."
Outreach by the youngest volunteers has been effective in races across the U.S., said Generation Joshua's Grewe.
"The kids knock and they say 'I'm 16 and I can't vote in this election but you can. Would you be willing to vote for me?'" Grewe said. "They tend to be incredibly well-spoken, and clean cut."
Generation Joshua's local chapters may get involved in Iowa, according to Grewe. At the national level, neither Generation Joshua nor its parent's political-action committee plan to deploy in the primaries, though: Too many Ron Paul supporters complained after the PAC endorsed Huckabee in 2008, committee director William Estrada said. Many home schoolers have a Libertarian streak.
For now, the parents' support is up for grabs. The candidates are acting as though they know it.
Before it's here, it's on the Bloomberg Terminal.
LEARN MORE