Oops: Scott Walker Scoops Himself Via Twitter
He's expected to officially announce on Monday.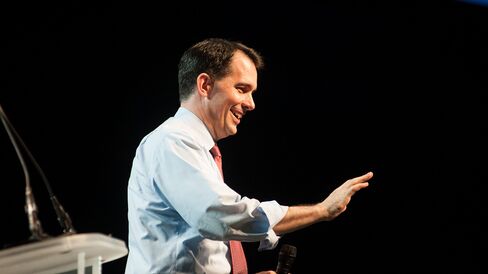 The word broke late Friday afternoon on Scott Walker's official Twitter account: "Scott is in. Are you? Join our team today," along with a picture captioned, "Scott Walker is running for president."
While the news wasn't particularly surprising—the Wisconsin governor has begun raising money through an exploratory presidential campaign committee and has conducted an elaborate pre-announcement vamping via social media—it did seem strange that he would deliver such momentous news late on a Friday afternoon, just two days before the Republican hopeful is scheduled to make a formal announcement in Wisconsin Monday.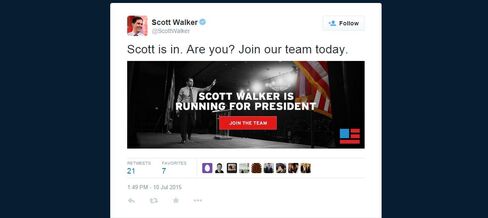 Via e-mail, AshLee Strong, a spokeswoman for Walker's political operation, declined to say if the tweet, which can be viewed in a Web browser but doesn't appear on his account's Twitter feed, was intentional or accidental. "Stay tuned for Governor Walker's announcement Monday," she said.
Several hours later, Twitter released a statement: "We're looking into today's issue and we've determined that the Walker team is not at fault," it said.
Before it's here, it's on the Bloomberg Terminal.
LEARN MORE