Pro-Kasich Group Said to Place Ad Buy of At Least $1 Million
The size of the buy, at least $1 million, is notable at this early stage of the nomination fight when the air war has barely begun.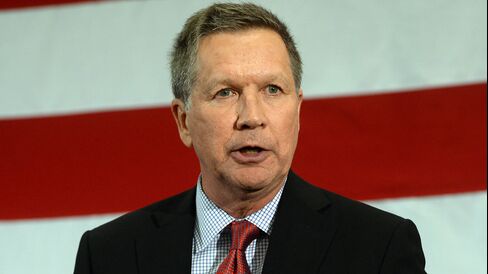 A group supporting Ohio Governor John Kasich's presidential campaign-in-waiting has placed a seven-figure ad buy on New England television ahead of the Republican's July 21 kickoff, two people with knowledge of the buy said Wednesday.
The ads, which will appear on broadcast and cable TV in Boston and New Hampshire starting Thursday, come from Kasich's non-profit group New Day for America, a 527 organization. Chris Schrimpf, spokesman for New Day, confirmed the ad buy but not the amount.
The size of the buy, at least $1 million, is notable at this early stage of the nomination fight when the air war has barely begun. Ads from a super-PAC supporting Louisiana Governor Bobby Jindal in Iowa were backed by $500,000, the Washington Post reported June 29.
It is also striking that the group is purchasing time on Boston television, which is not normally done for presidential candidates in New Hampshire until much closer to Election Day. The state will hold the nation's first primary in early February 2016. While Kasich has traveled to Iowa and South Carolina, the two other key early-voting states, he and his advisers have made it clear that he is staking his chances on doing well in the Granite State.
The buy includes Boston network affiliates, WMUR, Fox News, and other key cable channels, the people said.
Contracts for some of the buys began landing at the Federal Communications Commission on Wednesday afternoon and suggested that the Ohio governor's supporters are aiming for a wide demographic. On WMUR, the Manchester-based ABC affiliate, New Day is paying $225,000 to air 61 spots through Monday not only during news programming but on Jimmy Kimmel's late-night talk show and on LIVE with Kelly and Michael, a popular daytime talk show hosted by Kelly Ripa and Michael Strahan. On Boston's ABC affiliate, WCVB, the group is spending $58,400 for 18 spots, including several at the noon hour during the quiz show "Who Wants to be a Millionaire?" Outside groups like New Day for America have to pay market rates for TV advertising; they don't qualify for the lower rates that stations are required to offer political candidates.
Kasich, a two-term Ohio governor and former chairman of the House Budget Committee when he was a U.S. congressman, has been well known in political circles for years but is largely unknown to voters around the country. Years ago, he hosted a television program on Fox News Channel and has stepped up his political travel in the last few months.
But he is struggling to gain a national foothold. His standing in national polls, typically around 2 percent, currently appears too low to allow him to be included in the first televised debate on Aug. 6 in Cleveland, hosted by Fox, under rules limiting the stage to the top 10 candidates in an average of five recent national polls.
The buy is part of a whirlwind of planned activities, including his announcement speech in Columbus, Ohio, intended to quickly elevate him and perhaps earn him entry in the debate, the people said.
Earlier Wednesday, the Columbus Dispatch reported Kasich's campaign committee was beginning to place ads in New Hampshire and Boston.
An ad posted on New Day for America's YouTube channel Wednesday was a minute long, rather than the more conventional 30 seconds, and flips through images of rival GOP presidential candidates before Kasich speaks to the camera about his job-creation and tax-cutting record in Ohio and efforts to balance the budget as a congressman in Washington.
"John Kasich's for us," a woman says at the end of the ad.
Asked about the buy after a speech in Hilton Head, South Carolina, Kasich said the ad is "a good reflection of who I am" and that now is a good time to air it.
"We like people to know who I am, plain and simple," he said.
(Mark Niquette and Greg Giroux contributed to this report.)
CORRECTION: An earlier version of this story omitted a word from the name of the group New Day for America.
Before it's here, it's on the Bloomberg Terminal.
LEARN MORE