Marco Rubio Dismisses Hillary Clinton's Immigration Attack as 'Silly Talk'
She's feeling the heat from the left in her own primary, the Republican says.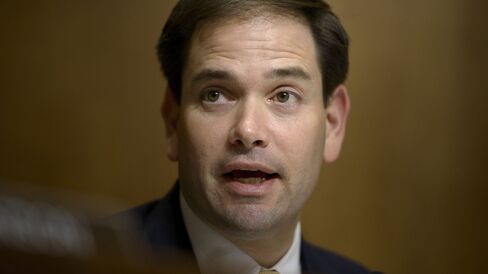 Republican presidential candidate Marco Rubio dismissed as "silly talk" recent remarks by Democratic rival Hillary Clinton that GOP contenders "range across a spectrum of being either grudgingly welcome or hostile towards immigrants."
"That's silly talk," Rubio, a son of Cuban immigrants, told a small group of reporters in Iowa on Wednesday after speaking at the Cedar Rapids Country Club during a campaign stop. "She'll continue to say silly things like that, I imagine, because she feels the heat from the left in her own primary."
The Florida senator said he disagreed with Clinton's claim. "We have a right to enforce our immigration laws. That's not hostility, that's sovereignty," he said. "And the truth of the matter is that many candidates on that [Republican] stage have offered varying, different ideas about how to address the fact that we have people in this country illegally."
He reiterated his support for overhauling U.S. immigration policy, including a pathway to permanent residency (a prerequisite to citizenship), but insisted that it "isn't going to happen until we do border security and bring illegal immigration under control. ... That's just a political reality."
Rubio also lambasted primary rival Donald Trump's inflammatory comments likening Mexican immigrants to "rapists" during a speech announcing his bid last month.
"I think voters are capable of distinguishing the Republican Party from Donald Trump," Rubio said of the businessman and TV personality. "I obviously strongly disagree with [his comments]. They're inaccurate, and they're offensive, and they're divisive." None of the other Republican candidates are making statements similar to Trump's, he said.
Before it's here, it's on the Bloomberg Terminal.
LEARN MORE