2016 Candidates Add Their Two Cents to Puerto Rico Debt Debate
Two Democratic senators are coming up with legislation that would allow the island's public agencies to declare bankruptcy.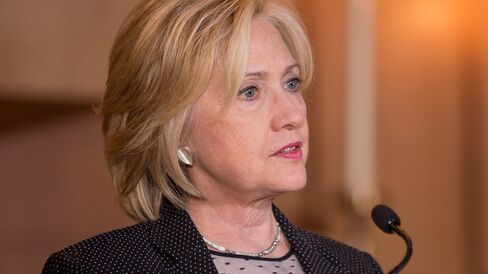 More 2016 presidential candidates are weighing in on Puerto Rican debt as lawmakers prepare to introduce a bill that would allow public agencies on the island to declare bankruptcy.
Puerto Rico Governor Alejandro Garcia Padilla last month said the commonwealth could not pay off its $72 billion in debt, an unprecedented default for a U.S. government borrower. Garcia Padilla, who is aligned with Puerto Rico's Popular Democratic Party, said the island will need to come come up with a debt-restructuring plan. Puerto Rico currently cannot allow public agencies to file for bankruptcy, and the authority to do so would have to come from Congress.
Senators Charles Schumer of New York and Richard Blumenthal of Connecticut, both Democrats, said last week they plan to file a bill that will let the commonwealth allow public agencies to file for bankruptcy, as many U.S. states do for agencies and municipalities. Presidential candidates from both parties have supported the measure, a move that some interpret as a means to drum up support in Florida, where the heavily Hispanic population includes large swath of Puerto Ricans.
"As a first step, Congress should provide Puerto Rico the same authority that states already have to enable severely distressed government entities, including municipalities and public corporations, to restructure their debts under Chapter 9," Clinton said Tuesday in a statement.
Clinton joins fellow Democrats Bernie Sanders, a Vermont senator, and Martin O'Malley, the former Maryland governor, both of whom also called for the bankruptcy allowance.
Jeb Bush, the Republican former Florida governor, was out in front of the issue back in April.
"Puerto Rico should be given the same rights as the states," Bush said in Spanish at an event in San Juan. "In order for Puerto Rico to eventually become a state, it must begin by being treated as a state."
Bush is the only Republican thus far to firmly support the measure. On the other end of the spectrum is Louisiana Governor Bobby Jindal, who penned a Time op-ed, published on Tuesday, that likened the decision to a bailout.
"The politicians in Puerto Rico are no different," Jindal wrote. "They are demanding that we change U.S. laws so that they can file for bankruptcy. They are even threatening to sway the presidential election in order to force candidates to agree with them. These are the same politicians that led the country to bankruptcy. Everyone knows exactly what is going on here—they are asking the U.S. taxpayers to pay for a bailout. That's where this leads, and we should be honest about it. I oppose this."
Former Arkansas Governor Mike Huckabee on Wednesday became the latest 2016 candidate to speak out against potential legislation that will allow Puerto Rican public agencies to declare bankruptcy. He invoked the closing of naval facilities as the reason for the island's financial woes.
"Puerto Rico's economy took a major turn for the worse after their government pushed the U.S. Navy out of the Atlantic Fleet's top training base. Puerto Rico, like Washington, has failed to learn a simple lesson: Don't make decisions you can't afford," the Republican said in an e-mail. "We've had enough bailouts. Puerto Rico is a commonwealth, not a state, and should not be allowed to file for Chapter 9 bankruptcy."
Senators Lindsey Graham of South Carolina and Marco Rubio of Florida have both said they are still making up their minds, National Journal reported. Taking questions from reporters on Wednesday, Rubio said he will make up his mind soon.
"We'll have more to say about that in I suspect the next 48 to 72 hours," he said. "It's important we get it right" because it sets a precedent.
—Sahil Kapur contributed to this report.
Before it's here, it's on the Bloomberg Terminal.
LEARN MORE