Bipartisan Senate International Tax Accord Lacks Big Details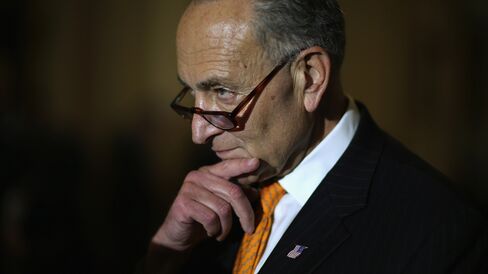 Senators Rob Portman and Charles Schumer have reached a bipartisan agreement to offer tax breaks to companies that generate profits from patents and other intellectual property in the U.S.
Turning that "innovation box" concept into a detailed plan that can get through Congress won't be easy.
Portman, an Ohio Republican, and Schumer, a New York Democrat, worked together for nearly six months on the proposal, and it represents a step toward a tax revamp that lawmakers have sought for years. Still, the plan doesn't address significant details. For instance, Portman and Schumer haven't agreed on what income qualifies for the break or how to make the transition from the current system, according to a summary released Wednesday.
"Our international tax system is upside down and inside out" because it creates incentives to send jobs and profits overseas, Schumer said in a statement. "These proposals would right the ship, provide a potential funding source for transportation reauthorization, and allow the United States to compete on a level playing field."
The Portman-Schumer concept is part of an attempt backed by multinational companies to make the U.S. more attractive for technology companies and others. That's especially important for U.S. companies as other industrialized nations try to limit tax-planning techniques that have let U.S. companies enjoy effective foreign tax rates of less than 10 percent.
'Fallen Behind'
"The U.S. has fallen behind with tax policies that haven't been updated in a half-century," Portman said in a statement. "This report is just the beginning of a process, not the end."
Portman and Schumer also are trying to link major changes to the international tax system to highway funding. Their report was one of five released by Senate Finance Committee working groups.
Under current law, U.S. companies owe the full 35 percent corporate tax -- the highest of any nation -- on income they earn around the world. They receive tax credits for payments to foreign governments, and have to pay the U.S. the difference only when they bring the money home.
That system encourages companies to shift profits to low-tax foreign countries and leave the money there, and that's exactly what they've done, with more than $2 trillion stockpiled overseas.
'Dividend Exemption'
Schumer, the likely next Senate Democratic leader, and Portman endorsed a "dividend exemption" or territorial system like those in other major countries such as Japan and the U.K. Under that approach, foreign income of U.S. companies would be largely untaxed, but there would be tougher rules to prevent companies from shifting profits abroad.
Most Democrats haven't explicitly endorsed that idea, though President Barack Obama has moved in that direction since his first campaign.
"The members do not include any groundbreaking details in their framework, and, in our view, this provides tacit acknowledgment that disagreement abounds when it comes to these issues -- not only on a partisan basis but likely intraparty as well," Henrietta Treyz, an analyst at Height Securities, said in a note today.
Overseas Stockpiles
Obama and House Ways and Means Chairman Paul Ryan are trying to find a way to impose a one-time tax on the stockpiled money, change the underlying system and plow the proceeds into highways. That won't be easy, and time is running short with the presidential election overtaking Congress.
Ryan welcomed the Portman-Schumer framework in a statement Wednesday.
"These ideas could serve as the basis for a bipartisan package to stem the tide of inversions and takeovers, advance important permanent tax extenders, and potentially unlock a solution to our highway trust fund shortfall," he said.
Earlier this year, Obama proposed a one-time tax of 14 percent and a future 19 percent minimum tax on foreign income. Republicans viewed that as an opening bid, but the bidding hasn't advanced.
Business groups are wary of separating international taxes from the rest of the U.S. tax code. Conservatives worry that taxing the foreign stockpiles is a tax increase. Liberals worry that it's a tax cut compared with what they would otherwise owe. Highway advocates say that the one-time infusion of money may not provide a long-term stable source of infrastructure funding.
First Step
Ryan, a Wisconsin Republican, has expressed openness to the innovation box concept and is focused on international taxes now, as a first step toward revamping the U.S. tax code in 2017.
The Obama administration hasn't taken a clear position on innovation boxes. Obama also wants to cut the corporate tax rate now.
If lawmakers reach a framework agreement on taxes soon, they could extend a July 31 highway-funding deadline and fill in the blanks before then.
"To get it into law by the end of July is not possible," Ryan said on Wednesday.
Before it's here, it's on the Bloomberg Terminal.
LEARN MORE