Hillary Clinton Panned for Parade Media Rope Line
Aides defend the set-up as a balance between breathing room and access.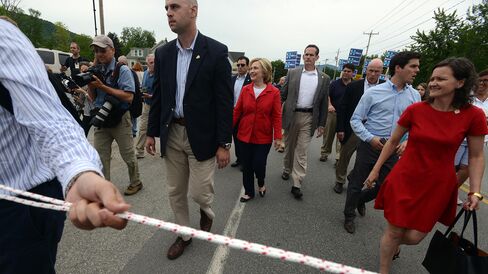 Hillary Clinton seems untouchable, and not in a good way.
Journalists and political commentators laid into the Democratic front-runner after members of the media on Saturday were corralled in a moving enclosure while she walked in a Fourth of July parade in Gorham, New Hampshire.
"I love Hillary Clinton but this is the worst visual metaphor," said panelist Van Jones on CNN's State of the Union on Sunday. "Before you could say, 'She's not talking to reporters,' but you can't cover not talking. You can show this image over and over again and it's awful."
"This is humiliating," added conservative panelist S.E. Cupp. "It's humiliating for reporters who have to abide by Hillary Clinton's rules of journalism."
Republican groups including the New Hampshire state GOP and the opposition-research firm America Rising also piled on.
Clinton's campaign defended the arrangement as a balance between breathing room and access. "While the GOP may want to spin a good yarn on this, let's not get tied up in knots," spokesman Nick Merrill said in a statement. "We wanted to accommodate the press, allow her to greet voters, and allow the press to be right there in the parade with her as opposed to preset locations. And that's what we did."
Added spokeswoman Jennifer Palmieri on MSNBC's Morning Joe on Monday, as panelists laughed while images from the parade flashed on screen: "We try to allow as much access as possible but my view is it can't get in the way of her being able to campaign."
https://twitter.com/ABCLiz/status/617401654825103360
https://twitter.com/danmericaCNN/status/617445499331809282
https://twitter.com/maggieNYT/status/617397904131670016
https://twitter.com/rubycramer/status/617724444082085890
Before it's here, it's on the Bloomberg Terminal.
LEARN MORE