Bernie Sanders Says He'd Let Religious Groups Against Gay Marriage Stay Tax-Exempt
The Democratic presidential candidate says he respects people with different points of view.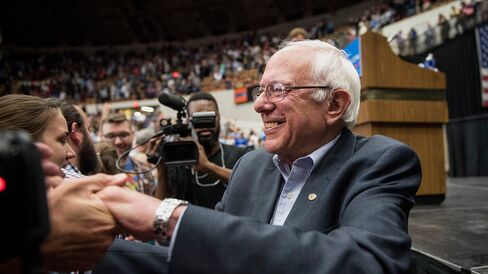 Democratic presidential candidate Bernie Sanders on Sunday highlighted his record on LGBT rights but stopped short of endorsing the removal of tax-exempt status from religious organizations that refuse to recognize same-sex marriages, which were recently legalized nationwide by the Supreme Court.
"I don't know that I would go there," the Vermont senator said on CNN's State of the Union. "You know, we have religious freedom and I respect people who have different points of view. But my view is that people have a right to love each other regardless of one's sexual orientation."
The senator, who describes himself as an independent socialist, was speaking from Iowa, where he drew another crowd of thousands on Saturday amid positive movement in primary polls. During the interview, he made a jab in the direction of Democratic front-runner Hillary Clinton, bringing up her husband's signing of the Defense of Marriage Act.
"I voted against the DOMA act, the so-called Defense of Marriage Act, way back in 1996, that was signed by President Clinton, because I think if people are in love they should be able to get married in this country, in 50 states in America, and I strongly support what the Supreme Court recently said."
Before it's here, it's on the Bloomberg Terminal.
LEARN MORE