Pro-Hillary Clinton Haul Approaches $70 Million in First Half of 2015
Outside groups help boost the Democratic presidential candidate's bottom line.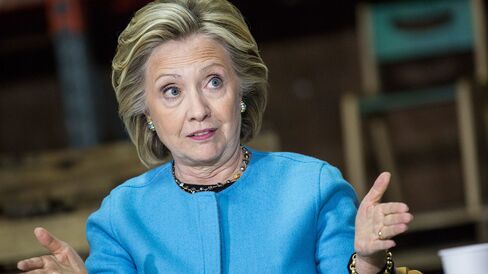 Priorities USA Action, the super PAC expected to be the biggest outside force for Hillary Clinton's presidential campaign, pulled in $15.6 million during the first half of 2015, contributing to a pro-Clinton fundraising haul that now appears to be approaching $70 million for the year so far.
Drawing on contributions from big donors such as George Soros and Jeffrey Katzenberg, Priorities raised $12.5 million its total in just the last four weeks, chief strategist and co-chair Guy Cecil said in a Thursday morning note to supporters. The group started off slowly this year and underwent a transformation this spring, as Cecil, Clinton's 2008 political director, joined the group and the Democratic frontrunner began doing private outreach to some potential donors.
Clinton's campaign raised a record $45 million in primary money during its first quarter, it announced Wednesday. American Bridge 21st Century, an opposition research PAC founded by longtime Clinton supporter David Brock, and Correct the Record, which was part of the group until earlier this year, raised $7.7 million more, while an associated nonprofit brought in $1 million, according to a source familiar with the groups' fundraising who asked not to be identified. In all, the total raised in support of Clinton's candidacy during the first half of the year is at least $69.3 million. That could still be dwarfed by the expected (though sometimes doubted) $100 million haul that Right to Rise, the super PAC closely aligned with former Florida Gov. Jeb Bush, is rumored to have raised.

Priorities has struggled to attain the same kind of fundraising as the outside groups supporting Republican presidential hopefuls, something that Democrats in part attribute to major philosophical differences between the parties on the role that big money has in politics. Though Clinton is campaigning on getting "unaccountable money" out of politics, she and her allies have said they will not unilaterally disarm and must aim to use campaign finance laws to their advantage as much as possible. "With the amount of money pouring in from the far right wing, the time has come for our side to kick things into high gear," Cecil said. "We have a lot of work to do in the months ahead, but we are starting to see some real momentum."
Cecil's arrival brought staff turnover, as Anne Caprara, who'd worked with Cecil at the Democratic Senatorial Campaign Committee, took over as executive director, and Patrick McHugh and Kim Kauffman became deputy executive directors.
In addition to Soros and Katzenberg, those who giving to Priorities during the first half of the year included Hollywood moguls Haim Saban and Stephen Spielberg; director and producer J.J. Abrams and his wife actress Katie McGrath; and hedge fund manager Donald Sussman. Barbara Lee, who runs an eponymous foundation that works to support women candidates, and the Plumbers/Pipefitters Union.
Priorities aims to "run the most data-driven, targeted independent expenditure in presidential campaign history," Cecil said, primarily focused on paid media that will "educate voters about potential Republican nominees" and "define a clear choice for the American people" in the presidential race.
Books closed Tuesday on the second quarter — the first for which most 2016 presidential candidates will have to make financial disclosures to the Federal Election Commission — but the paperwork won't become public until later this month.
Before it's here, it's on the Bloomberg Terminal.
LEARN MORE