Obama Uses Labor Record to Score Points Against Republican Candidates
President Barack Obama pushed deep into the home state of the most vocally anti-union Republican presidential contender to tout his record on labor with an eye on keeping the White House in Democratic hands.
Obama was greeted Thursday in La Crosse, Wisconsin, by the state's Republican governor, Scott Walker, who gained notoriety by forcing through a 2011 law that stripped collective bargaining rights from most of Wisconsin's public employees.
The handshakes and smiles were left on the tarmac as Obama delivered more of a campaign speech than a policy address once at the University of Wisconsin-La Crosse. He lit into Republican economic ideas and singled out Wisconsin's laws on pay and bargaining, though he never mentioned Walker by name.
"We have to protect, not attack, a worker's right to organize for fairer wages, better benefits, and safer workplaces," Obama said.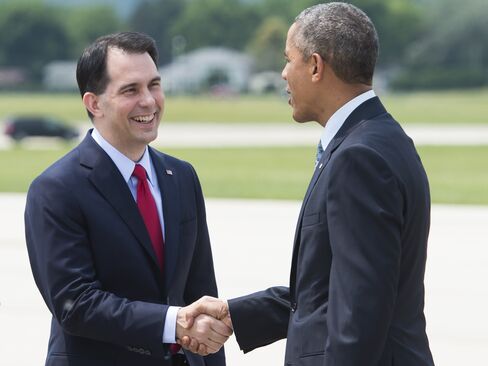 He compared Wisconsin to neighboring Minnesota, where Democrats in the governor's mansion and statehouse raised taxes on upper-income earners to pay for education programs. The result, he said, is that Minnesota has a lower unemployment rate than Wisconsin and median income $9,000 higher.
Hunger Games
He also poked fun at the Republican presidential field, now numbering at least 15 including Walker, who filed paperwork for his campaign on Thursday.
"I've lost count of how many Republicans are running for this job," he said. "They'll have enough for an actual Hunger Games. That is an interesting bunch."
Republicans were unimpressed.
"It's no surprise all President Obama has left are partisan attacks after spending the last six-and-a-half years presiding over the weakest economic recovery in modern history and a declining middle class," Michael Short, a spokesman for the Republican National Committee, said in an e-mail.
After angering his union allies by pursuing a trade pact with Pacific Rim nations, Obama on Thursday put his support behind organized labor and boosting the minimum wage.
With a friendly audience at the University of Wisconsin, Obama highlighted his plan to require employers to pay overtime to millions of lower- and middle-income people who work more than 40 hours a week.
The White House estimates 4.7 million people who earn as much as $970 a week would benefit within the first year of the rules, to be issued in 2016. Business groups have denounced the regulation, announced by the Labor Department on Tuesday, saying it would be costly and force them to cut hours for some workers.
Obama also called for employers to provide sick leave for workers and for protecting the right of workers to unionize.
Jobs Report
Obama spoke hours after getting mixed news on the economy. The Labor Department reported that the U.S. added 223,000 jobs in June and the unemployment rate fell to a seven-year low of 5.3 percent. But wages were stagnant and the share of the working-age population in the workforce fell to the lowest level since October 1977.
Wisconsin's unemployment rate was 4.6 percent in May. Across the river in Minnesota, the rate was 3.8 percent.
While Obama spokesman Eric Schultz said on the way to Wisconsin that the president is focused on his agenda for the remaining 18 months he has in office, the administration is building an economic platform that former Secretary of State Hillary Clinton can adopt if she wins the Democratic presidential nomination.
Wisconsin is fertile ground for Obama's message. Despite Republican control of the legislature and the governorship, the state's been in the Democratic column in the last seven presidential elections.
Along with Walker, Democratic Representative Ron Kind was at the airport to greet Obama. Kind was one of 28 Democrats in the U.S. House who bucked leadership to vote for a bill granting Obama "fast-track" authority to negotiate trade agreements and submit them to Congress for up-or-down votes.
The trip was Obama's second venture into Republican territory this week. In Tennessee on Wednesday, Obama promoted the Affordable Care Act, which was solidified by a Supreme Court decision last week, and pushed for expanding the Medicaid program for the poor. Tennessee is one of 22 states where Republican governors or state legislators have blocked an expansion.
Before it's here, it's on the Bloomberg Terminal.
LEARN MORE