Marco Rubio Plans TV Ads Worth $7 Million in Early-Voting States
The Florida senator plans ahead.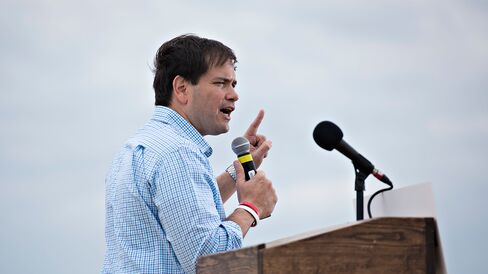 Republican presidential candidate Marco Rubio is preparing to swarm the airwaves in Iowa, New Hampshire, South Carolina, and Nevada before primary voters head to the polls.
The Florida senator has reserved more than $7 million worth of television ads in those states, a Rubio aide said, confirming an earlier New York Times report. According to the Times, nearly $5 million of that money is poised to fund ads in Iowa from late November to February, when caucus-goers will kick off the nomination contest.
A Quinnipiac University poll of Hawkeye State Republicans released Wednesday places Rubio seventh in a crowded field that may feature as many as 16 contenders.
Rubio's standing with Republican voters nationally has dipped over the last month as former Florida Governor Jeb Bush and businessman Donald Trump entered the race and shot to the front. Rubio fell to 6 percent nationally in late June from 14 percent in late May, according to CNN/ORC polling.
The top 10 contenders in an average of the five most recent national polls will win spots on the stage for the first primary debate, which is set to be hosted by Fox News in Cleveland in August.
If Rubio has an ace up his sleeve, it's his relatively low unfavorable ratings with Republicans. His campaign is betting that elevating his limited name identification with a message of optimism delivered to voters' living rooms will give him a boost when it matters most. Many of his ads in Iowa are slated to run around Christmas.
Before it's here, it's on the Bloomberg Terminal.
LEARN MORE