De Blasio Sees Shipping Jobs at Reborn Brooklyn Terminal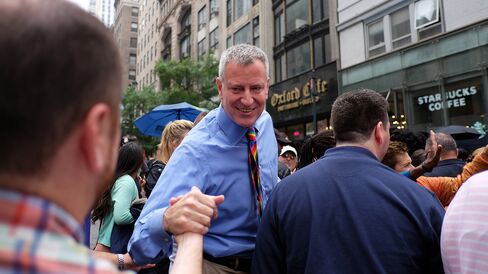 The U.S. designated two Brooklyn ports as part of the America's Marine Highway system, making them eligible for federal subsidies that have the potential to revitalize New York's shipping industry, Mayor Bill de Blasio said.
The South Brooklyn Marine Transfer Terminal and the nearby Red Hook Container Terminal received the designation, de Blasio said Monday at a news briefing on the waterfront. Both facilities are in long-struggling neighborhoods that may benefit as hundreds of jobs are created, de Blasio said.
There were once more than 60,000 stevedore jobs in New York. The South Brooklyn terminal closed about 20 years ago as business shifted to ports in Baltimore, and Elizabeth and Newark, New Jersey. About 400 million tons of cargo still go through the city's port, and volume is expected to increase 48 percent by 2040, de Blasio said.
"Soon, cargo ships that would have docked in New Jersey will be docking here in Brooklyn, bringing good jobs, taking trucks off our streets and helping spur this growing industrial hub," de Blasio said at the briefing, where he was joined by U.S. Representatives Jerrold Nadler and Nydia Velazquez.
The South Brooklyn terminal on the Sunset Park waterfront features rail access that could reduce truck traffic, noise and pollution. The city's Economic Development Corp. took it over through a 39-year lease deal last month. The $115 million redevelopment will direct 5 percent of all terminal revenue to local neighborhoods.
Job Potential
One in three residents of Sunset Park lives in poverty, de Blasio said. Jobs at the terminal hold the promise of $40,000-a-year starting pay, rising to $80,000 plus benefits, de Blasio said.
Reduced trucking will cut carbon emissions and the expense of road maintenance by $2 million a year, the mayor said.
The America's Marine Highway Program is a Transportation Department-led effort to expand the use of navigable waterways to relieve landside congestion, reduce air emissions and generate other public benefits by increasing the efficiency of the surface transportation system.
Before it's here, it's on the Bloomberg Terminal.
LEARN MORE