George W. Bush Really Misses Taking Showers on Airplanes
The former president tells a Washington audience he also misses the pastry chefs.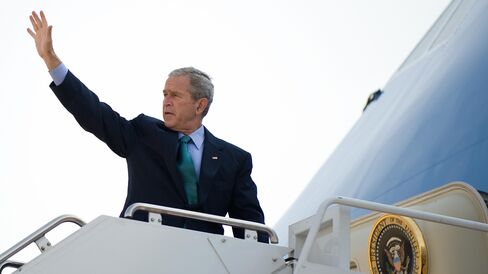 George W. Bush says he doesn't miss much about about being president — with a few notable exceptions.
"I miss having a shower on an airplane," the nation's 43rd chief executive told an audience Wednesday at the U.S. Chamber of Commerce during a rare Washington appearance. Bush, who in the past has joked that Air Force One "never lost my luggage" and that he does "have to stop at stoplights now," also said that he missed the "the pastry chefs."
President Barack Obama's predecessor joked about his outsider status as he appeared at the chamber's imposing national headquarters, just across Lafayette Square from the 1600 Pennsylvania Avenue mansion once occupied by Bush, as well as his father, former president George H.W. Bush. He did not mention his brother Jeb, who is vying to be the next family member in the White House.
"It's nice to be back here, kind of," said Bush, who was famous for slipping away to his Texas ranch as often as he could while president. "It takes a lot to drag Laura and me back to the swamp."
In this case, the cause was employing veterans, one of Bush's post-presidential causes. "Over the next five years, one million brave men and women will complete their military service and return to civilian life. The question is, can we help them in a meaningful way?" Bush asked his business audience.
"What most veterans want is to have their service understood and appreciated for what it is — a formative experience in their lives and a source of skills and values that prepare them to succeed in civilian life," the former president added.
He told the audience what he really missed about his presidency was interacting with service members and veterans.
"That's looking in the eyes of the men and women who volunteered to serve our country," he said. "I miss being the commander-in-chief of our great nation."
Before it's here, it's on the Bloomberg Terminal.
LEARN MORE