Conservative Groups Bracing Republicans for Obamacare Ruling
Republicans leaning toward extending health care subsidies if the Supreme Court voids them are facing intense pressure from the Heritage Foundation and others.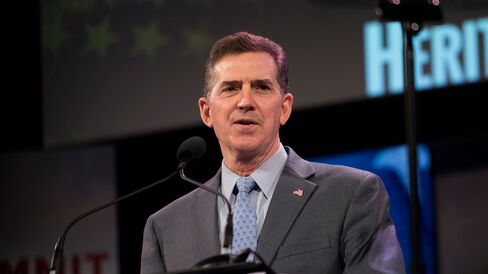 Republican tensions over Obamacare rose Tuesday after Heritage Foundation President Jim DeMint ramped up pressure on the party not to extend health insurance subsidies—even temporarily—that the Supreme Court could erase within days.
In an op-ed titled "Let the subsidies die," the former senator and conservative kingmaker took aim at Republicans who are eyeing a backup plan that temporarily preserves the subsidies to avoid massive disruptions and loss of coverage for millions of Americans.
"It would be uncaring and unfair for Congress to force taxpayers to continue funding Obamacare's subsidies," DeMint wrote in the Washington Examiner. "Extending the subsidies would be political malpractice, not just a mere Band-Aid upon an infected wound." He argued that it would be "far better" to simply repeal the entire law.
The essay throws an intriguing wrinkle into the congressional politics surrounding the imminent Supreme Court decision, which recently has seen Republican opponents of the health care law scrambling to come up with answers for an estimated 6 million Americans likely to lose health insurance tax credits if the justices rule against the Obama administration. A decision in the much-watched case, King v. Burwell, is expected in the next few days.
DeMint's missive could give some of them pause. The outspoken South Carolinian occupies a bully pulpit as the head of the Heritage Foundation, a conservative brain trust with an active political arm, Heritage Action For America.
Dan Holler, a spokesman for Heritage Action, dropped a broad hint that there could be political consequences for Republican lawmakers who try to create a subsidy patch. "It will be difficult for a Republican to go home and explain how saving a key plank of Obamacare helps ensure Obamacare is repealed in 2017," he said.
In addition, a DeMint-founded super-PAC has specialized in taking aim at Republicans it deems insufficiently conservative. The total that the Senate Conservatives Fund and a related super-PAC, Senate Conservatives Action, spent helping favored candidates — and torpedoing those on the target list — during the 2014 election cycle was $11.1 million, according to spokeswoman Mary Vought.
Ken Cuccinelli, the president of Senate Conservatives Fund, was blunt about threatening to support primary challenges against Republican lawmakers who back an extension of Obamacare subsidies.
A Not-So-Veiled Threat
"If the Supreme Court strikes down the Obamacare subsidies and mandates, Republicans in Congress should not extend them," Cuccinelli told Bloomberg in a statement. "Republicans should fight for full repeal, as they promised time and time again. SCF supports conservative candidates and a lawmaker's position on Obamacare is one of the most important issues we will examine when deciding whether to support a primary challenger."
But the potential political consequences of not backing subsidies also are worrying to Republicans, who don't want to be blamed for millions of Americans losing their coverage. At issue in King v. Burwell is whether the text of the Affordable Care Act restricts premium tax credits to Americans enrolled through state-run insurance exchanges, rather than those in three-quarters of states who use the federal exchange. Many Republicans have called on the Supreme Court to void the subsidies; the White House and Democrats say the law clearly makes those subsidies available in all 50 states.
Republican Senator Ron Johnson of Wisconsin, who faces a tough reelection fight next year, is the author of a bill with 31 cosponsors that would extend the subsidies if the Supreme Court overturns them.
"Obviously I disagree with Senator DeMint's position on that," Johnson said in an interview Tuesday. "My main goal is to make sure no Americans are further harmed by this sloppily written—and what would be then unlawfully implemented—law. And I think we have a responsibility to do that."
A Tricky Rhetorical Balance
Senator John Barrasso of Wyoming, the leader of the Republican effort to craft a contingency plan, responded to the criticisms Tuesday. "We are not going to protect the law," he said. "We are going to protect people."
Republican senators in blue and purple states—Susan Collins of Maine, Kelly Ayotte of New Hampshire, and Rob Portman of Ohio—told Bloomberg they support a temporary subsidy extension. Like Johnson, Ayotte and Portman face potentially difficult reelection races in 2016.
"I do support taking care of those people, including almost 200,000 people in Ohio who are getting subsidies under our federal exchange," Portman said, adding that "there's different views on the length of time" to keep the subsidies.
Presidential Candidates
Standing against a subsidy extension are two senators running for president. Both, like DeMint, are ideological purists. Senator Ted Cruz of Texas told Politico this month that the "best legislative option is to allow states to opt out" of Obamacare. Senator Rand Paul of Kentucky told the paper he wants a new law that would "legalize inexpensive insurance policies."
Of the two other presidential candidates, Senator Lindsey Graham of South Carolina has signaled support for a subsidy extension by signing on to Johnson's bill. Senator Marco Rubio of Florida has been mum on the subsidies, calling for a "transition to a replacement" for Obamacare; his office referred Bloomberg to a recent op-ed in which he sketched out broader health care changes he wants to see.
Other Republican senators—including Cory Gardner of Colorado and Thad Cochran of Mississippi—declined to say if they would support a subsidy extension.
"I'm not that closely involved in the minutiae that you are," Cochran, the chairman of the Senate Appropriations Committee, told Bloomberg. He added, "I'll consider my vote very carefully before I cast it." Last year, Cochran narrowly beat back a Republican primary challenge from Chris McDaniel, a candidate endorsed and underwritten by the Senate Conservatives Fund.
There are competing proposals—one by Senator Ben Sasse of Nebraska and another Bill Cassidy of Louisiana—to offer fallback options for those who lose their subsidies.
Republican leaders in the House and Senate last week presented a contingency plan to members, based on Johnson's bill, to ease disruptions if the Supreme Court grants them their wish and guts the Affordable Care Act.
Unraveling Obamacare
According to a senior House Republican aide, it would allow the law's subsidies to continue through 2015, while repealing the individual mandate to buy insurance and the requirement that large employers provide it. In 2016, the proposal would let states opt out of Obamacare's regulations and instead receive a "block grant" equal to the amount of subsidies coming in their direction. It would also push the next president to take on the task of replacing Obamacare in 2017. The aide said the plan wasn't final.
It's far from clear Republicans will be able to pass such a plan, and DeMint's new push further complicates that task. Outside conservative activists are working to portray any extension of subsidies as a vote in favor of Obamacare, which further dims the prospects in the House, where many Republicans are already cold to the idea.
To that end, Representative Paul Gosar of Arizona last week introduced a bill ahead of the Obamacare ruling that would eliminate insurance regulations—including mandates on benefit coverage and premium levels—in states that might lose their subsidies. The bill, which currently has six co-sponsors, was hailed by DeMint on Tuesday as preferable to extending the subsidies.
"With the verdict of King v. Burwell looming, the healthcare reform conversation has focused on the fate of federal subsidies for insurance premiums initiated by the Affordable Care Act," Gosar said in a statement. "However, this puts the focus on the symptoms of our ailing healthcare system and ignores the root cause."
Unlikely to Become Law
Even if the Republican-led Congress were able to pass its emerging proposal, President Barack Obama has made clear he will veto any bill that undermines core components of Obamacare, such as a repeal of the individual mandate. In other words, it's extremely unlikely to become law, and serves mostly as a political vehicle to spread blame for the chaos that could result from a Supreme Court decision.
Privately, some Republican aides who work on health policy confess that they'd prefer to see the subsidies upheld, seeing few, if any, options to get a health care bill past Obama's desk and fearful their party will be blamed for the fallout.
The Supreme Court is set to deliver the final decisions of its term on Thursday, Friday and Monday—it's unclear which day the Obamacare decision will come, or how the justices will rule. The House has canceled votes on Friday and Congress is scheduled to be out of session next week for July 4 recess.
(This post has been updated with new information provided by Senate Conservatives Fund on the group's campaign spending.)
Before it's here, it's on the Bloomberg Terminal.
LEARN MORE