What a Tangled Web We Tweet: White House Trolls Journalists on Trade
A White House spokesman rehashes journalists' tweets of doom.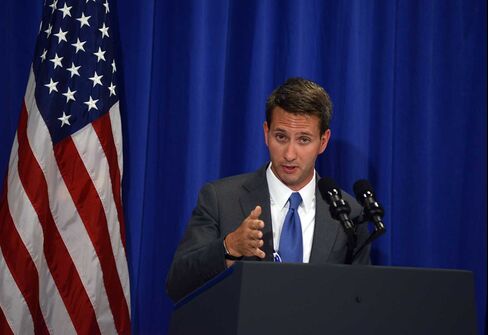 Looking at Twitter on Tuesday, it was hard to tell what made White House spokesman Eric Schultz happier: that trade legislation cleared a pivotal procedural hurdle in the Senate, or the chance to remind reporters they had declared the president's ambitions dead just days earlier.
The White House insisted in the aftermath of the botched June 12 trade vote in the House that they had merely experienced a "procedural snafu" that could be worked out. Reports of fast-track's death, Schultz and other White House aides said, were greatly exaggerated.
Tuesday appeared to offer some validation for the White House, when legislation cleared its Senate test vote—albeit without a single vote to spare. And Schultz, who is the principal deputy to White House press secretary Josh Earnest, gleefully let reporters who had declared the administration's trade prospects in serious danger know about it.
"Remind me—was it a torpedo or death knell?" Schultz wrote. "Remarkable blow or stunning defeat?"
He went on to then retweet more than a dozen instances of journalists who had depicted the failed House vote as a poor reflection on the White House.
https://storify.com/justinsink/eric-schultz-celebrates-senate-tpa-vote
Jen Friedman, Schultz's fellow deputy press secretary, also got in on the fun.
https://twitter.com/JFriedman44/status/613376134001131521
The effort was not lost on members of the Washington press corps, including reporters for Politico . . .
https://twitter.com/JakeSherman/status/613376240590921729
. . . Yahoo . . .
https://twitter.com/OKnox/status/613376470954717184
. . . and Reuters:
https://twitter.com/robertarampton/status/613375039698804736
Brendan Buck, the press secretary of House Ways and Means Commission Paul Ryan, also took note. The spokesman for the Wisconsin Republican, who was actually an ally of the Democratic president in shepherding the trade bill through the House, was slightly more conciliatory toward the media.
https://twitter.com/BrendanBuck/status/613378731248381952
Of course, there's a bit of risk to Schultz's gloating. While the fast-track trade bill is expected to clear a Senate vote later this week and head to the president's desk, White House officials have said Obama wants to sign both the fast track authority and accompanying legislation that would provide benefits to displaced workers.
It's that associated legislation that House Democrats who oppose the trade push used to kill the broader deal earlier this month. While House Speaker John Boehner, an Ohio Republican, has pledged to get that legislation to the president's desk before the end of the week, it's still not clear if House Democrats will vote for it.
For now, though, Schultz and the White House appear happy to celebrate in a way befitting of an administration that has aimed to master new media in 2015: relentless trolling.
Before it's here, it's on the Bloomberg Terminal.
LEARN MORE