Obama Uses N-Word and Israeli Tweet Helps Show Why
In the aftermath of last week's fatal shooting, the president invokes the word in making the point that racism in America is "not cured."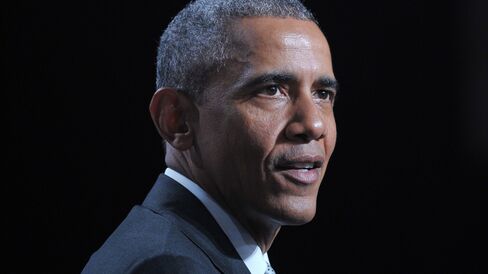 This is an excerpt from Bloomberg's daily Opening Line column.
Barack Obama used the N-word in a discussion about racism last week. Surely that's got to be a first for a POTUS.
The president was talking with comedian Marc Maron for his "WTF" podcast at his garage studio in Los Angeles. The conversation certainly wasn't about telling jokes, though.
In the aftermath of last week's fatal shooting of nine people in a black church in Charleston, South Carolina, Obama invoked the word—a slur even on the lips of the president—in making the point that racism in America is "not cured." Far from it. We wonder if in his heart he thinks it will ever be?
"It's not just a matter of it not being polite to say"—and then he said it—"in public," Obama said. "That's not the measure of whether racism still exists or not. It's not just a matter of overt discrimination. Societies don't, overnight, completely erase everything that happened 200 to 300 years prior."
But in talking about racism during the Friday interview, Obama would probably have been surprised to discover it directed at him by one of America's staunchest overseas allies. (Even if relations have been somewhat strained over the past few years.)
And surprised, at least until Sunday, when the wife of Israel's interior minister and vice prime minister tweeted a racially charged joke about the U.S. president.
For the record, here is what Judy Shalom Nir-Mozes—a regular on radio and television shows and part of the family that owns the Yedioth Ahronoth newspaper, according to Politico—had to say:
"Do you know what Obama Coffee is? Black and weak."
Yes, she then deleted the tweet as criticism swelled, saying "I apologize, that was a stupid joke somebody told me."
Was that a joke? Isn't Obama someone you could end up shaking hands with at a state dinner?
Then, a second apology: "President Obama I shouldn't have written the inappropriate joke I heard. I like people no matter about their race and religion." Guess so.
A third followed: "Sorry if I caused offense to anyone. I hope I will stay married when my husband will land and hear what I did."
If nothing else, the power of Twitter to bring out the best in people never ceases to amaze us.
So we asked Cameron Brown, a research fellow at Hebrew University in Jerusalem, what he made of it all.
"What it's indicative of is a general mood of growing animosity toward Obama, which has been growing over the years and is getting worse by the day," he said. "It's sort of symbolic of a general atmosphere."
Maybe, but doesn't her tweet add a racial element to an already tense relationship between Obama and the Netanyahu government?
"Oh yeah that's for sure. And not only that, it hadn't actually been up until now," he said.
We'll give the second-to-last word to Obama, or at least his White House Press Secretary Josh Earnest, who had this to say yesterday.
"If there's one thing we've certainly learned from this incident...on Twitter, you're limited to 140 characters, but it certainly has the capacity to be very revealing," he said.
Well, Dylann Storm Roof probably would have laughed. Some audience.
Before it's here, it's on the Bloomberg Terminal.
LEARN MORE