Congressional Hellenic Caucus Watches Greece
The bipartisan group awaits a resolution of the crisis.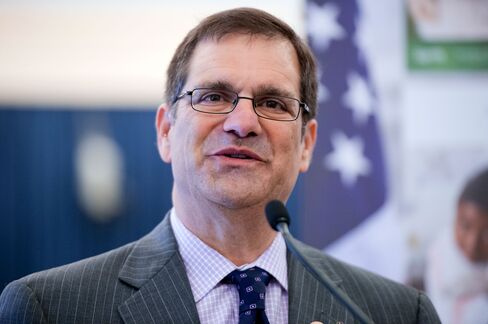 With a June 30 deadline approaching to unlock aid for Greece as the nation risks default, a band of U.S. lawmakers awaits a resolution with anxiety and some frustration—mainly because there's little they can do.
These are vexing days for the Congressional Caucus on Hellenic Issues, a group of about 120 members. The bipartisan caucus is among the largest, and most diligent, of more than 700 official "member organizations" in Congress focused on a range of policy concerns and personal interests.
The Hellenic caucus is made up of lawmakers of Greek descent as well as those representing districts with many residents who carry Greek surnames. Lawmakers say they've at least played a pretty good game of defense.
"Since we've had a caucus, not a single anti-Greek bill has passed Congress," boasts Representative Carolyn Maloney of New York, a co-chair of the group, in an interview.
That Hellenic Caucus provides one answer to the question of who in Congress is paying attention to whether Athens meets its deadlines for repaying debts, defaults, or even stays in the European Union?
What precisely these U.S. lawmakers can do about the debt drama going on now in Greece is a much tougher question.
"We're involved, but it's really only on a limited basis," said Representative Gus Bilirakis of Florida, the other co-chair, who is of Greek descent. It was his father, former Representative Michael Bilirakis, who formed the Hellenic Caucus in 1996 with Maloney.
Spinoff Group
The younger Bilirakis two years ago went on to form another group of about 40 members with Representative Ted Deutch of Florida, calling it the Congressional Hellenic Israel Alliance.
More than 3 million Americans of Greek ancestry live in the U.S., with Maloney's district calling itself home to the largest Hellenic population outside of Greece and Cyprus. That's because Astoria, Queens, became a destination for ethnic Greeks in the 1960s and for Greek Cypriots after the 1974 Turkish invasion of Cyprus.
Of course any potential talk of a U.S. bailout is just that—it isn't happening, the lawmakers say. The U.S. has $18 trillion in debt, and Maloney says, "Republicans have passed legislation called sequester, so that would be difficult."
Still, the limitations of what the members of the caucus can do now are frustrating for a group that has seen its previous battles draw praise from groups outside of Congress.
U.S. Aid
Past efforts have touched on U.S. aid to Greece and Cyprus, U.S. relations with the former Yugoslav Republic of Macedonia, the status of the Ecumenical Patriarchate, and developments in the Aegean.
"The biggest thing over the last 10 years was their work to help get Greece included in the visa waiver program," said Basil Mossaidis, executive director of the American Hellenic Educational Progressive Association.
The program permits nationals from certain countries who are traveling to the U.S. for tourism or business to stay for 90 days or less without obtaining a visa.
Regarding the debt crisis, the caucus has been trying to stay optimistic about Greek's future.
It has been involved in briefings or presentations since the start of this year by the Cyprus Energy Minister, the State Department, Greek members of Parliament, and the Greek Foreign Minister.
"We've been trying to encourage the allies to work with Greece," Bilirakis said.
And other activities unrelated to the debt crisis continue. The Congressional Hellenic Israel Alliance, in a bit of quirky timing, has been inviting fellow lawmakers and others to a special exhibit this week from the Greek Embassy, being displayed Friday at the Capitol.
It has nothing to do with Greek's present.
According to the invitation, the exhibit will instead help to provide better understanding of how Greek Jews and Greek Christians fought alongside one another against Hitler's forces.
"Something positive," Bilirakis said.
Before it's here, it's on the Bloomberg Terminal.
LEARN MORE