Senate Leaders Seek Bipartisan Support for Obama Trade Bill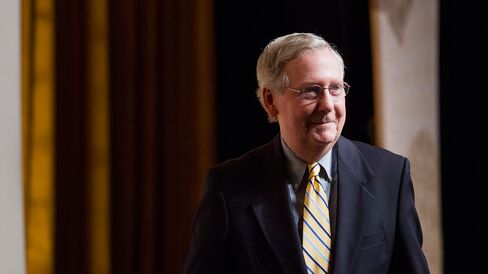 U.S. Senate leaders are trying to hold together a shaky bipartisan coalition to again pass President Barack Obama's fast-track trade measure and this time send it for his signature.
Senator Ted Cruz, a Texas Republican running for president, said he now opposes the bill after previously supporting it. In an opinion column published by Breitbart.com, he said that while free trade is good for the U.S., the fast-track bill is part of a "corrupt" deal among Republicans, Democrats and the White House involving efforts to extend the Export-Import Bank.
The Senate plans a procedural vote Tuesday on advancing the fast-track measure, which the chamber passed in May. After a rebellion by House Democrats derailed the bill, Republican leaders paired it with an unrelated measure to get it through the House last week. That means a new Senate vote is needed for final passage.
"We shouldn't let this opportunity for a bipartisan achievement slip past us," Majority Leader Mitch McConnell said on the Senate floor Monday. "If we simply vote the same way we did a couple of weeks ago we won't miss this opportunity."
McConnell, a Kentucky Republican, said the process he set up will put several trade bills on the president's desk before Congress adjourns for a week-long July 4 recess. House Speaker John Boehner, an Ohio Republican, echoed the message in a statement Tuesday.
Up-or-Down Vote
The fast-track negotiating measure would let Obama submit trade agreements to Congress for an expedited, up-or-down vote without amendments. Obama wants the authority to help his administration complete a 12-nation Trans-Pacific Partnership.
Most Republicans support the fast-track measure as a way to boost the U.S. economy, while many Democrats blame previous trade agreements for the loss of U.S. manufacturing jobs.
Continuing a six-month campaign of speeches and personal lobbying, Obama pitched the trade legislation on June 19 as a way to increase economic growth.
"We've got to keep pushing to grow our economy so that more Americans who work hard feel like their hard work is paying off," Obama told the U.S. Conference of Mayors in San Francisco.
Fourteen Democratic senators joined almost all Republicans to pass the fast-track bill May 23 after McConnell reached a procedural deal with Minority Leader Harry Reid, a Nevada Democrat who opposes fast-track authority.
Worker Aid
When the measure moved to the House, Democrats who oppose fast track voted down a worker-aid program they usually support because its passage was required for the fast-track provision to advance.
House Republican leaders then paired the fast-track negotiating authority with a popular public-safety retirement bill, H.R. 2146, which passed the House June 18 on a 218-208 vote. They also promised to ensure passage of the worker-aid program, Trade Adjustment Assistance, a point McConnell stressed Monday.
"The process this week is very, very clear," McConnell said. He said the Senate will vote on fast track and then on the worker-aid plan, which is now being combined with a bill promoting commerce with poorer countries through trade preferences.
House Vote
As a result, the House must still pass the worker-aid program even though fast track, known as Trade Promotion Authority, will go directly to Obama. Boehner said the House will seek to ensure that Obama gets both bills this week.
"Our goal is to get TPA and TAA to the president's desk this week and deliver this win for the American people," Boehner said in his statement, using acronyms for the two trade measures.
Obama promised in a June 17 meeting that he would sign the fast-track trade measure before the worker-assistance legislation, said Representative Ron Kind, a Wisconsin Democrat who attended the meeting. That would ensure that Democrats who oppose fast-track couldn't stall it by blocking the worker-aid bill, which most Republicans oppose.
As part of the negotiations, McConnell agreed to incorporate a provision supported by the steel industry and Republican Senator Rob Portman of Ohio making it easier for companies to win unfair-trading cases at the Commerce Department against foreign competitors.
Senator Ron Wyden, the Oregon Democrat who helped craft the legislation, said the inclusion of that provision was a "sign of good faith" by Republican leaders that they would ensure the entire trade package gets done.
Before it's here, it's on the Bloomberg Terminal.
LEARN MORE