Obama Invokes Blunt Words to Expose 'Long Shadow' of Racism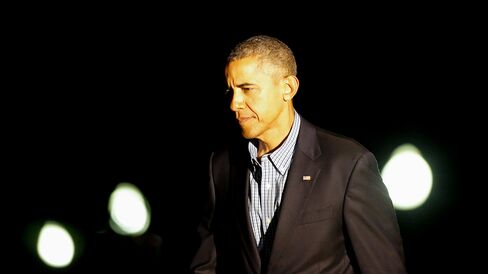 President Barack Obama said last week's shooting at a historically black church demonstrates that the U.S. hasn't yet dealt with its legacy of slavery and racism.
In blunt and expansive remarks, Obama told the comedian Marc Maron that the nation's history of racial discrimination still "casts a long shadow" that won't be eliminated by superficial changes in society.
"Racism; we are not cured of it," Obama said in Maron's "WTF" podcast, recorded Friday at his Los Angeles home and released Monday morning. "It's not just a matter of it not being polite to say 'nigger' in public. That's not the measure of whether racism still exists or not. It's not just a matter of overt discrimination. Societies don't, overnight, completely erase everything that happened 200 to 300 years prior."
Obama, the son of a black father and a white mother, was cast as a post-racial political figure, and his winning of the presidency suggested a healing of the nation's racial divisions. In the final years of his presidency, events such as the deaths of unarmed black men at the hands of police and the shooting at the Charleston, South Carolina, church have pressed Obama to increasingly focus on the subject.
While the U.S. has made "incontrovertible" progress on race relations, the issue is deeper than changing norms of overt discrimination, like the use of racial slurs in public, Obama said.
Society's Progress
"Rather than just say that nothing has changed, we have to say, wow, we've actually made significant progress over the last 50 years," he said. "If we made as much progress over the next 10 years as we have over the last 50, things would be better. And that's within our grasp."
That's a theme Obama has turned to repeatedly when he's addressed race. In the hour-long interview, Obama discussed his own struggle to come to terms with racial identity, a subject he also detailed in his memoir, "Dreams From my Father."
Talking about his first years in college in California, Obama said he was "trying to figure out, all right, I'm seen and viewed and understood as a black man in America -- what does that mean? I'm absorbing all kinds of stereotypes and ideas from society."
Fragmented Debate
One of the hurdles to further progress on race, Obama said, is that the U.S. has become fragmented by highly partisan and bitter political debate, which has made the public more cynical.
"You want to get to those decent, well-meaning Americans who would agree with that, but when it gets translated into politics it gets all confused," Obama said. "Trying to bridge that gap between I think the good impulses of the overwhelming majority of Americans and how our politics expresses itself continues to be the biggest challenge."
American political institutions have become "detached from how people live on a day-to-day basis," deepening gridlock, he said.
"There's this big gap between who we are as a people and how our politics expresses itself," Obama said. "Part of that has to do with gerrymandering, and super-PACs, and lobbyists, and a media that is so splintered now that we're not in a common conversation."
Political Stalemate
Obama, who was elected in part on his promise to change the tone and the debate in Washington, said he's spent much of his six-and-a-half years in office looking for a way to break the political stalemate.
One area where divisiveness has stymied action is on gun control, he said. Obama said he was "disgusted" after Congress refused to enact tighter controls on firearms after a school massacre in Connecticut in 2012 and that he sees no chance of action in response to last week's mass shooting.
"Unfortunately, the grip of the NRA on Congress is extremely strong," he said, referring to the National Rifle Association, the nation's biggest lobby for gun manufacturers and owners. "I don't foresee any legislative action being taken in this Congress."
Before it's here, it's on the Bloomberg Terminal.
LEARN MORE