Hillary Clinton Indistinguishable From Elizabeth Warren, McConnell Says
At the Federalist Society, the Senate majority leader also warns about Obama's "Europeanization of America."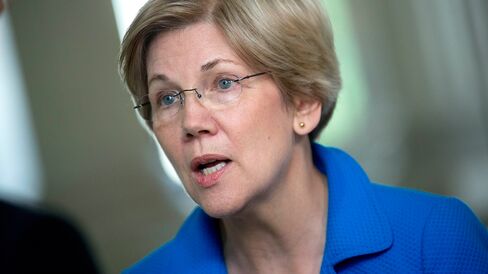 Leading Democratic presidential candidate Hillary Clinton is indistinguishable from Massachusetts Senator—and liberal superstar—Elizabeth Warren, the Senate's top Republican said Thursday.
"Hillary Clinton and her team believe that America has moved left: She's not going to run as Bill," Senate Majority Leader Mitch McConnell said Thursday, referring to former president Bill Clinton, who blazed his trail to the White House as a centrist Democrat. "She's going to run as herself, which isn't a whole lot distinguishable from Elizabeth Warren."
McConnell's comments followed a speech in Washington to the Federalist Society, a group primarily of lawyers that promotes judicial restraint. They came less than a week after Clinton—a former New York senator and U.S. secretary of state—delivered a populist speech about elevating the middle class on Roosevelt Island in New York City.
In her speech, Clinton focused on ways she'd help elevate the middle class as president. McConnell's remarks indicate that Republicans—who have a crowded primary field—are seeking to counter that message by portraying her as more progressive than most Americans and as a continuation of President Barack Obama's policies.
'Europeanize America'
Obama has presided over the "Europeanization of America," a trend that Clinton would further, McConnell said.
"When the president came to office, he didn't put it this way, but he wanted to Europeanize America—and he's made a lot of progress," he said. "To get the country going again, we're going to need a very different chief executive in the White House."
Four Republican senators—McConnell's fellow Kentuckian Rand Paul, Ted Cruz of Texas, Lindsey Graham of South Carolina, and Marco Rubio of Florida—are among those seeking that party's nomination for president.
Whoever Republicans nominate should put the question to voters of whether they're satisfied with the status quo in the U.S., McConnell said, adding that if the answer is yes, "then she's your candidate."
During his more than six years in office, Obama and his administration have created "a very adversarial regulatory environment," McConnell said.
"Their view is if you're making a profit, you must be up to no good," he said. "The fundamental problem we have in the country right now is the government itself."
In next year's presidential election the U.S. is "really at a crossroads," McConnell said, adding, "Do we want to be like France or do we want to be like America?"
Before it's here, it's on the Bloomberg Terminal.
LEARN MORE