De Blasio, Schneiderman Use Arrest to Urge Stronger Rent Rules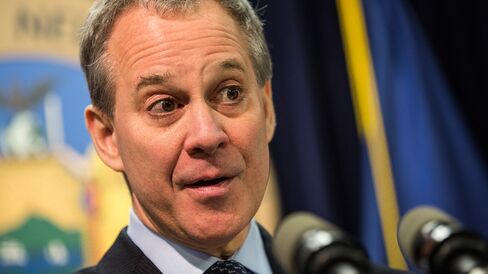 New York Attorney General Eric Schneiderman and Mayor Bill de Blasio used a joint appearance in Brooklyn to call for stronger tenant protections, two days after lawmakers let rent control expire for 2 million residents.
In front of an apartment building in Crown Heights, Schneiderman announced the arrest and indictment of a landlord for unlawful eviction, endangering a child and filing a false construction plan. It was the first arrest linked to the Tenant Harassment Prevention Task Force, a city-state group created in February to inspect properties that have been the subject of complaints.
"The message to bad landlords is simple: There's no excuse for harassment," Schneiderman said. "We will find you, we will pursue you and we will prosecute you to the full extent of the law."
A call to the home of the landlord, Daniel Melamed of Great Neck, New York, wasn't answered. A message left for him at Dream Home Realty, where he works, wasn't immediately returned.
Schneiderman and de Blasio, both Democrats, have pressed for the renewal of the decades-old rent regulations. The mayor wants to end a provision called vacancy decontrol that allows thousands of apartments to fall off the rolls annually when their rent tops $2,500 per month.
Higher Rents
The change is part of the mayor's plan to preserve or create 200,000 units of low-cost housing by 2025. In May, the median monthly rent in Manhattan was $3,380, up 2.4 percent from a year earlier, according to a June 11 report by appraiser Miller Samuel Inc. and Douglas Elliman Real Estate.
Since 1993, when vacancy decontrol was implemented, 250,000 apartments have left the rent-stabilization program, according to city statistics based on the U.S. Census. Landlords can raise the rent as much as 20 percent when an apartment is vacated, potentially pushing it above the $2,500 threshold.
"The current rent law must be changed and improved because it rewards vacancies," de Blasio said in Brooklyn. "An unscrupulous landlord will do everything in their power to get that vacancy so they can jack up rent."
The effort to kill vacancy decontrol has been bogged down in the state capital, Albany, where it has the support of Democrats in the Assembly. Governor Andrew Cuomo has said he'd accept either ending vacancy decontrol or increasing the cap above $2,500. They've been unable to persuade Republicans who control the Senate to go along.
Leaving Albany
Instead, just hours before the regulations expired June 15, the Senate approved an eight-year extension of regulations that would create a system to verify incomes of regulated renters while also leaving in place vacancy decontrol at the current limit. Cuomo and de Blasio panned the move.
Cuomo and lawmakers have said new regulations will be back-dated to June 15 and that landlords should act as if they're in place, as they did in 2011, when they also expired.
Lawmakers were scheduled to leave Albany Wednesday and not return until January. It's now expected they'll be in the capital through Friday to extend rent control and potentially a property-tax abatement for developers who build affordable housing, which also expired on June 15.
Before it's here, it's on the Bloomberg Terminal.
LEARN MORE