What Is It About June 16 Politics?
It turns out the day has a bit of a history for circus-like stories.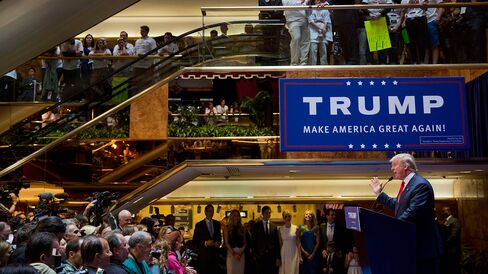 As Donald Trump announced his presidential campaign in New York City on Tuesday, it turned out that June 16 has a bit of a history as a day for circus-like political stories.
NPR reporter Jessica Taylor pointed out on Twitter that on June 16 in past years, former Representative Anthony Weiner and former Senator John Ensign each admitted to wrongdoing that led to their resignations.
https://twitter.com/JessicaTaylor/status/610823042965614593
In 2009, Ensign, a Republican from Nevada, admitted to having an affair with a staffer's wife, who had also worked for him. He resigned the next day. Two years later, Weiner, a Democrat from New York, said he would step down after admitting to sending inappropriate photos to women.
For what it's worth, June 16 is also Bloomsday, when fans of James Joyce honor his opus Ulysses. The entire story takes place on June 16, 1904, and readers continue to honor the book's main character, Leopold Bloom, on that day every year.
Before it's here, it's on the Bloomberg Terminal.
LEARN MORE