The Definitive H&H Jeb Bush Scouting Report
He's got the money and connections, but can he persuade Republicans that a man named Bush can defeat a woman named Clinton?
What he's got: Executive experience and a substantial conservative governing record as two-term Florida governor from 1999 to 2007; high national name recognition (with all the good and bad that comes with it, given his surname); a broad and deep donor network; establishment support up the wazoo; demographic and geographic strengths that make him a formidable general-election candidate; courage of his convictions on issues that put him at odds with much of his party's base; a presidential demeanor; intelligence, confidence, and policy savvy aplenty; underrated retail skills, including fluency in Spanish.
What he lacks: Demonstrated ability to handle deftly questions about his relationship with his older brother's record and legacy; an organic connection with many factions of the party he hopes to lead; a passionate following within any faction of the party, aside from the donor class; polling strength (especially in the early states) commensurate with his fundraising prowess; capacity to deliver a roof-raising speech from a prepared text; appeal as an avatar of next-generation Republicanism; experience in the political trenches during the Obama/Tea Party era.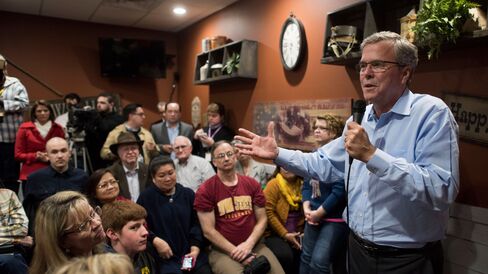 Biggest question mark: Can he persuade the Republican nominating electorate to overlook his apostasies—and that a man named Bush is the best chance the party has to defeat a woman named Clinton?
Message: "Our nation can be dynamic and prosperous again, if we join together and fight for every American's right to rise."
Signature issues: Education reform; immigration reform; fiscal reform.
Core constituencies: GOP moderates, pragmatists, Establishmentarians of all stripes; Floridians (though competition with Senator Marco Rubio for their home-state voters will be stiff); right-of-center Hispanics; the sprawling Bush network.
Fundraising mojo: Will be the best-bankrolled Republican candidate by a country mile; huge support on Wall Street and among other mega-bundlers when it comes to campaign and super-PAC dollars; small-donor and online potential less clear.
Spouse and family: Father, George H.W., mother, Barbara, and brother George W. are as sophisticated and well-connected as any political family of the modern era. Mexican-born wife, Columba, historically has been extremely press-shy and averse to the limelight generally. Eldest son, George P., is a rising star who serves as Texas land commissioner; youngest son, Jeb Jr., is a Miami real estate investor. Daughter, Noelle, has a history of drug and legal troubles, and more or less disappeared from public view more than a decade ago.
Perceived electability as Republican nominee: Consensus among elites in both parties (and, notably, in Clinton HQ) sees him, along with Rubio, as the most potent challenger Hillary might face.
National-security credentials: Has lived abroad (in Venezuela) and traveled extensively, leading 15 international missions as governor of Florida and making scores of visits to two dozen countries since leaving office. But no experience in the formulation of foreign policy at the national level.
Television skills: Generally fluent and quick on his feet in interviews and other Q&A set-ups; radiates intelligence and level-headedness but is frequently wonky, sometimes bland, and sometimes a touch testy. Occasional lapses into goofy, WASPy, archaic locutions that remind viewers that he is very much a Bush.
Social media/online chops: A respectable but far from prodigious 193K followers on Twitter, where he sports an estimable #tbt game and relishes posting photos of himself chatting with folks he encounters on the trail. From just one recent week:
https://twitter.com/JebBush/status/604730313126891521
https://twitter.com/JebBush/status/604374928910073856
https://twitter.com/JebBush/status/604055841193484289
https://twitter.com/JebBush/status/607665860732321792
https://twitter.com/ALGOP/status/603722433955258370
178K followers on Facebook; 12k followers on Instagram.
Media coverage: Currently suffering a rough slew of stories over apparent turmoil within his operation; previously bludgeoned over nearly weeklong to-ing and fro-ing over questions about the Iraq War. More broadly, the press evinces little egregious hostility toward him, but ample skepticism and barely concealed suspicion that he could be a paper tiger.
The Big Mo: Huge in the early months of 2015, but now definitively stalled; stakes for his formal launch and the weeks that follow are sky-high.
Fire in the belly: Decision to dive into the fray early and hard dispelled earlier impressions of pronounced ambivalence.
The hang test: Approachable and easy-going on the hustings, always ready to take a selfie.
Challenges party orthodoxy: On education reform, unwaveringly supports Common Core; on immigration, favors a pathway to full citizenship or legal status.
Best moment of 2016 cycle so far: When Bloomberg Politics reported in January that his super-PAC aimed to take in $100 million-plus in the first quarter of 2015.
Worst moment of 2016 cycle so far: Four days, four answers—the last of them including a peevish whine about having to tackle hypotheticals—on the question of whether, knowing what we know today, he would have favored invading Iraq.
Best Bloomberg Politics moment:

Picture he doesn't want you to see: There's no avoiding shots like these, because there are so many of them—but they ain't helpful.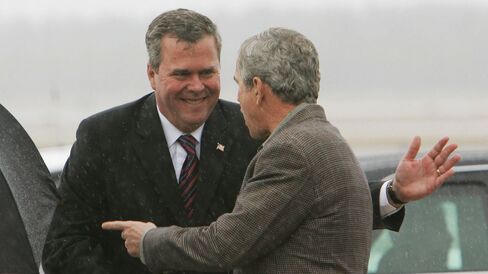 Before it's here, it's on the Bloomberg Terminal.
LEARN MORE