Hillary Clinton Aides Wave Off Trade Fight on Capitol Hill
Joel Benenson downplays "a lot of jockeying about bills that Democrats used to support 100 percent and now for some procedural reason in Congress they're voting against it."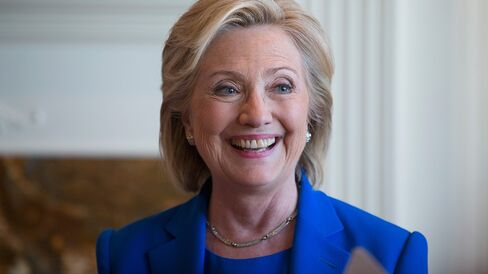 Aides to Hillary Clinton, on a Sunday-show blitz, dismissed questions about the Democratic front-runner's position on fast-track trade authority and the Trans-Pacific Partnership, suggesting the tumultuous week on Capitol Hill meant little to the average voter.
President Barack Obama's trade agenda suffered a setback Friday at the hands of House Democrats. Clinton made little mention of trade at her first campaign rally in New York on Saturday, and she has drawn criticism from liberals such as primary rival Bernie Sanders for not yet taking a position on the pact.
"Well, look, Secretary Clinton has been very clear that what matters is what's in the final deal, and there is no final trade pact yet," said senior adviser Joel Benenson on ABC's This Week.
"But there's a vote now on the floor," said George Stephanopoulos, the show's host, in an effort to tease out a response.
"There's a lot of congressional jockeying going on right now over things like TAA [Trade Adjustment Assistance] and TPP, acronyms that no voter understands," Benenson said, adding that Clinton has identified the criteria by which she will judge the final deal.
"So, a lot of jockeying about bills that Democrats used to support 100 percent and now for some procedural reason in Congress they're voting against it," Benenson said. "I think they'll have to explain that to each other as they're haggling here over what the final package is going to be."
On NBC's Meet the Press, campaign chairman John Podesta addressed questions about whether Clinton really has no position on the trade pact, something she had praised as Obama's secretary of state.
"It sounds like you're trying to please labor here," said host Chuck Todd.
"She's also stated that she has problems with the provisions that weight—give special privileges to corporations and not similar treatment to workers and their representatives. She's stated her concerns about strong environmental standards, worker protections. The deal's not done. The deal has some good things, it has some concerns, but when the deal is done, she'll render her final judgment," said Podesta, who called last week's Capitol Hill action "skirmishes around the process for considering" TPP.
Added campaign manager Robby Mook on CBS's Face the Nation: "There's obviously a trade bill that may be coming. We don't have the exact text, but when we do, she will take a clear position and in the meantime she's laid out clearly where she stands on trade."
Mook and Clinton spokeswoman Karen Finney said the candidate plans to sit down for interviews with the media as soon as Sunday, something she has not done since joining the race in April. Finney said Clinton may say more about trade soon.
"I think you may hear her talk about it sooner rather than later," Finney said on Fox News Sunday.
—Alison Elkin contributed to this report.
Before it's here, it's on the Bloomberg Terminal.
LEARN MORE