White House Ponders How to Get Back on the Fast Track
A stunning defeat is neither a glitch nor a harbinger of the end of Barack Obama's presidency.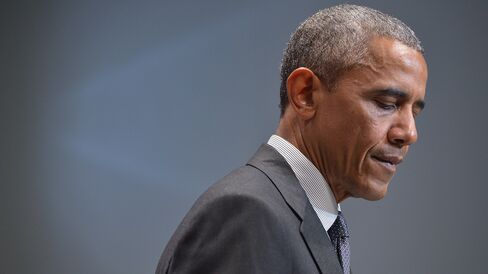 Procedural snafu or the unofficial end of Barack Obama's presidency? Those appear to be the two narratives to rally behind following the decision by the president's own party to send a key component of a trade package down in flames, at least for now.
In truth, neither is fully correct, even though Friday's votes exposed a fundamental weakness in Obama's strategy to see his trade agenda enacted.
White House aides were quick to respond to the doomsday scenarios with links to stories from just last month, when U.S. Senate Democrats blocked a procedural motion to move forward on a vote to give Obama his much-desired authority to fast track the consideration of any agreement reached on the 12-country Trans-Pacific Partnership.
White House Press Secretary Josh Earnest took all of about two minutes at the start of his briefing to emphasize that the House had in fact passed fast-track authority. It was the Democrat-supported measure to provide aid to workers who lost jobs due to foreign competition that was soundly defeated.
"We've got a really strong case to make," Earnest said of the work ahead as Obama and his team try to persuade Democrats to get behind the next Trade Adjustment Assistance vote.
Obama also benefits in that fast-track authority has made its way not only to the top of his priorities, but also to that same level inside House and Senate Republican leadership. That means there are options to move forward, though the chances of tripling Democratic support for the bill before it is scheduled to be considered again next week seem slim.
In a statement released a few hours after the vote, the president hinted at the strategy he will deploy.
"Trade Adjustment Assistance is an initiative that would give roughly 100,000 American workers access to vital support each year," the statement said. "But it's currently set to expire soon. Republicans and Democrats in the Senate have renewed it. Republicans and Democrats in the House failed to renew it today—and inaction will directly hurt about 100,000 workers and their communities annually if those members of Congress don't reconsider."
Translation: House Democrats, this is your priority. If you want it, you're going to have to get in line, because if you don't, it's gone.
Obama's willingness to lock arms with Republicans and the business community to push forward on an issue that is so divisive within his own caucus is evidence enough that this pitch will be made over and over in the days ahead—and as strong an indication as any that the fight isn't over.
It's unclear whether Obama fell short Friday because he has less than two years left in office; because he never invested the time to engender trust among House Democrats; or because he is simply on the wrong side of this issue in his party. It's likely a combination of all three.
His last-minute dash to the Capitol on Friday certainly didn't persuade many in his party to change their minds. If anything, according to Bloomberg colleagues staking out the meeting, it may have done the opposite.
Minority Leader Nancy Pelosi, Obama's ally through each of the toughest battles of his six-plus years in office, outright rejected his entreaties in a stem-winding House floor speech shortly before the vote. That came even after Obama made a private plea to Pelosi before he met with her caucus.
More important than Obama's personal skills of persuasion may have been the grassroots buzzsaw his legislative initiative ran up against. House Democratic aides in more than a half-dozen offices shared stories of their offices besieged by phone calls and e-mails opposing the deal.
Spearheaded on Capitol Hill by Senator Elizabeth Warren, the Massachusetts Democrat, and by labor unions and activists, the pressure placed on Democrats to hold their line was real–and despite his efforts, Obama and his top aides offered little incentive for them to break ranks. It's a lesson White House officials will keep in mind as they work to secure domestic spending priorities and another potential legacy-making deal on the foreign policy side of things—namely Iran's nuclear capabilities. On both, White House aides are quick to point out that there isn't much daylight between the president and his party—something they say makes clear his presidency is far from over.
Still, it was Obama who staked a cornerstone of his second-term legacy to this trade deal. It was Obama who, Earnest disclosed Friday, has been personally meeting privately with three and four Democrats at a time on the issue, has been working the phones, inviting members to join him on Air Force One trips, and made two very public (and un-Obama-like) gestures in the last 24 hours to try to get the vote across the finish line.
On Friday, those efforts fell short. Just don't expect it to be Obama's last run at the issue, according to White House officials.
"We certainly believe that we can convince more Democrats to vote for a program that many of them have previously supported, and that our economists can demonstrate significantly benefit middle class families all across the country," Earnest said.
Before it's here, it's on the Bloomberg Terminal.
LEARN MORE