Obama Steals the Show at Annual Congressional Baseball Game
For the seventh year in a row, Democrats beat Republicans in the charity game.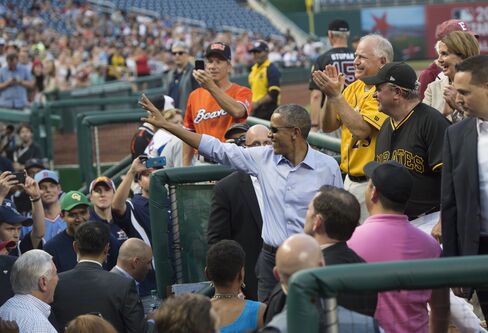 This game had everything. Tight pitching. Some slick fielding. Occasional hitting. Rowdy and partisan fans. And even a surprise visit by President Obama that seemed to help squelch a Republican rally.
By the end of the annual Congressional Baseball Game for charity Thursday night at Nationals Park in Washington, the outcome still proved to be an all-too familiar one.
Six straight defeats for Republicans turned to seven straight losses—a drought dating from 2009.
Democrats for two hours and nine minutes—the full seven innings—again rode the arm of their pitching ace, Representative Cedric Richmond of Louisiana to victory. This time by a 5 to 2 score.
Still, that was a marked improvement over the 16-6 and 22-0 humiliations of 2014 and 2013. And even in defeat, Republicans may have discovered an answer to Richmond, a former Morehouse College baseball player. Until the sixth inning, freshman Representative Mark Walker of North Carolina was nearly as impressive. But Richmond went the distance.
Republicans still hold an an all-time advantage in this venerable hardball classic that dates to 1909, 41 wins to 39 wins, with one tie.
And right from the start, it was clear this contest would be close, as some Republican fans chanted "First the Senate—and Now the ballgame!"
https://twitter.com/POTUS/status/609163576616615936/photo/1
Those hopeful expectations for Republican seemed to be crashing to earth almost immediately in the first inning.
Richmond struck out two of the first four hitters he faced, and retired a third on a pop-out. Democrats then jumped on Walker for two runs, through a combination of slight pitching wildness and aggressive base running by Democrats.
The scoring was aided by the managerial decision by Representative Joe Barton of Texas to intentionally walk Richmond, which drew boos from the stands. The Louisiana hurler proceeded to create mayhem on the base paths, eventually scoring one of the two runs.
Though stung, Republicans battled back with a run of their own the second inning, with a fielder's choice RBI off the bat of Representative Ryan Costello of Pennsylvania. Only a great diving stab of Costello's smash by Democrat First baseman Joe Donnelly of Indiana, and dive to the bag for the put out, limited the damage.
The third inning was mostly uneventful, though manager Barton did have Walker pitch to Richmond this time, striking him out.
Representative Pete Aguilar of California logged a hit for the Democrats, and a stolen base, only to be stranded at second. For Republicans, presidential candidate Senator Rand Paul of Kentucky struck out swinging with men on second and third to end the inning.
The game, which featured four official errors, seemed to then be possibly be tilting toward the Republicans in the fourth inning, only to see Obama arrive at the stadium and provide Democrats with a needed distraction.
The inning began with Representative Kevin Brady of Texas jacking one of the hardest hits to right-center field. That was followed by an infield single by Representative Thomas Rooney of Florida.
But just as that momentum was percolating, Obama stole the show with his arrival. That stopped play for a bit. The visit was a respite on what is expected to be a close U.S. House vote Friday on whether to give him fast-track trade authority.
The president's appearance prompted cheers not often heard from baseball stands. "Four more years! Four More Years!" chimed the Democratic side of the stadium. "TPA!' "TPA!" chimed Republican fans on the opposite side, referring to the trade deal.
Obama posed for photographs and eventually his way over to GOP dugout after hanging out with Democrats, including talking to Senator Rand Paul of Kentucky, himself a presidential wannabe.
It was all in good fun. But the would-be Republican rally found itself snuffed out amid the Obama hoopla.
https://twitter.com/JeffFlake/status/609180619495616515
"That's not right," joked Brady after the game. Especially, he said, given that the president expects Republicans to help him get the fast track authority on Friday, he said.
Representative Robert Dold of Illinois said he blamed the four team errors more than Obama.
Republicans did eventually manage to tack on another run. But the sixth inning proved decisive for Democrats.
A decision to pitch again to Richmond resulted in a double, followed by another, RBI double by Representative Jared Polis of Colorado. That led to Walker's departure from the mound.
That same inning, Representative Linda Sanchez of California became the only woman to make an appearance in the game. Facing relief pitcher John Shimkus of Pennsylvania, she and immediately clobbered a first-pitch down the first base line for a single. The fans on both sides of the stadium erupted.
Before it's here, it's on the Bloomberg Terminal.
LEARN MORE