Scott Walker Courting Mitt Romney Donors After Slamming Candidate Romney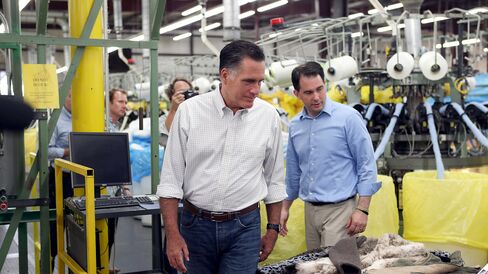 Wisconsin Governor Scott Walker makes clear in his political memoir that he thinks Mitt Romney did a lousy job of running for president in 2012.
That isn't keeping Walker from traveling to the mountains of Utah Thursday to gain favor with the former Massachusetts governor -- and potentially tap his robust donor network.
"Instead of offering a big, positive vision for the future, Romney was working to make the campaign a referendum on President Obama," Walker wrote in his book, noting that Romney was trying to mimic the 1980 presidential run of Republican icon Ronald Reagan. "The problem was, the Romney team got the 1980 Reagan campaign all wrong."
Walker, 47, is among at least six declared or likely Republican presidential candidates scheduled to attend Romney's third annual retreat in Park City. The E2 Summit, mostly closed to the media, is meant to bring together influential business, political and policy leaders to discuss the U.S. leadership.
Roughly 250 guests can also play flag football with Senator Marco Rubio of Florida, skeet-shoot with Senator Lindsey Graham of South Carolina, and ride horses with Romney's wife, Ann.
Walker, of course, isn't the only Republican critical of Romney's 2012 missteps. Others have routinely knocked him for gaffes such as standing before rich campaign donors and asserting that 47 percent of voters are dependent on government assistance.
Misreading Wisconsin
Of the potential candidates attending the Romney gathering, Walker has been among the most outspoken about those failings, arguing the party's 2012 nominee didn't do enough to connect with voters or present his own positive vision.
In his book, "Unintimidated: A Governor's Story and a Nation's Challenge," Walker fills most of a chapter entitled "Misreading the Message of Wisconsin" with Romney criticism.
Walker writes that shortly after his June 2012 victory in Wisconsin's recall election, he realized Romney could lose the state in November. He recalled Romney saying the message of his victory was that Americans didn't want more police, firefighters and teachers, as Obama had asserted.
"Unfortunately, it was Romney who did not get the message of Wisconsin," Walker writes. The rollback of union power, he said, was meant to avoid mass layoffs of such public employees.
The chapter also provides a window into Walker's own likely presidential campaign, which he's expected to announce in early July after Wisconsin's two-year budget is completed.
47 Percent
Walker repeatedly suggests that Reagan had dealt with similar campaign situations more effectively.
"Reagan did not dismiss 47 percent of the country as a bunch of moochers," Walker writes. "Quite the opposite: At the Republican convention in Detroit he appealed to those who wanted nothing more than to get off government assistance and find work."
While Walker praises Romney's decency and compassion in the book, about the only thing he gives him credit for doing right in the campaign is picking Representative Paul Ryan of Wisconsin as his running mate.
Obama ultimately won Wisconsin, carrying it with 52.8 percent of the vote, about the amount Walker won in his recall.
Stuart Stevens, Romney's chief strategist in 2012, said he doesn't think criticisms from Walker or others bothered Romney during or after the campaign. "It's just not in his DNA," he said.
AshLee Strong, a spokeswoman for Walker's political committee, Our American Revival, said in a statement that Romney and Walker are friends.
"While Governor Walker has said he may have made some different campaign tactics in 2012, he has tremendous respect for Governor Romney as a leader and what he has done for the Republican Party," Strong said. "Governor Walker believes that had Mitt Romney been elected in 2012, the U.S. would have restored its leadership position in the world and would be safer today."
CEO Turnout
Besides Walker, Rubio and Graham, other declared or likely 2016 Republican candidates expected to attend the Utah gathering will be New Jersey Governor Chris Christie, Ohio Governor John Kasich and former Hewlett-Packard Co. Chief Executive Officer Carly Fiorina.
Some Democrats also will be there, including David Axelrod, Obama's longtime strategist, and Lawrence Summers, a former U.S. Secretary of Treasury. Corporates leaders attending include General Electric Co. CEO Jeffrey Immelt and Meg Whitman, Hewlett-Packard's CEO.
Walker is expected to meet privately with the Romneys. He'll spend much of Thursday at their gathering and will join them for barbecue that evening. He'll speak on Friday before departing on an almost week-long trade mission to Canada.
In his run-up to a campaign, the Wisconsin governor is trying to present a more working-class image than the one offered by Romney, a former private equity executive worth hundreds of millions of dollars.
Last weekend, Walker rode a rented Harley Davidson motorcycle in Iowa and talked about his modest family upbringing. And he's fond of highlighting his frugality: from clipping coupons to tweeting photos of the ham-and-cheese sandwiches he brings to work.
"My brother and I did not inherit fame or fortune from our family," Walker said in Iowa. "What we got was more important, and that is the belief that if you work hard and you play by the rules you can do and be anything you want in America."
Before it's here, it's on the Bloomberg Terminal.
LEARN MORE