Iowa Republicans May Decide to Ditch Straw Poll
The state's Republican party will revisit whether to continue the largely symbolic event on Friday.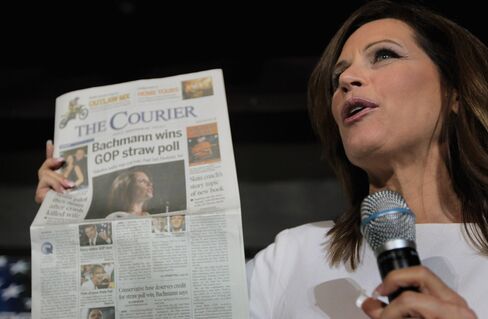 From the Des Moines Register:
Friday could be the day the Iowa Straw Poll dies.

The governing board for the Republican Party of Iowa will revisit going forward with the event during a conference call Friday morning, as some party officials resign themselves to the view that the much-criticized party fundraiser could potentially damage Iowa's first-in-the-nation caucuses, GOP insiders told The Des Moines Register Wednesday.

Back in January, the Iowa GOP board voted 16-0 to proceed with the straw poll, a tradition dating to 1979. It's a daylong political festival meant to showcase the party's presidential candidates and to bring Iowa Republicans together for food, music and field-winnowing. This year, it's scheduled for Aug. 8 at the Central Iowa Expo near Boone.
Read more here.
Before it's here, it's on the Bloomberg Terminal.
LEARN MORE