The Clinton Global Initiative Is Back, But Where Are the CEOs, the GOP, and Hillary?
Organizers insist that controversies about the Clinton Foundation aren't having an impact.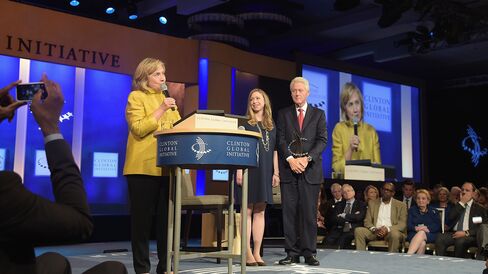 During the past few years, when the Clinton Global Initiative held its annual America conference, the leaders of corporate and political America made it a point to be there. Past participants have included presidential aspirants Carly Fiorina, Chris Christie and, of course, Hillary Clinton. Top executives of blue-chip companies such as Duke Energy, Dow Corning, the TIAA-CREF pension fund, UBS Wealth Management, Goldman Sachs, Walmart, and Siemens have all participated in prior years.
The roster for this year's gathering, which opens Monday in Denver, looks a little bit different. And while organizers acknowledge that the 2016 presidential campaign and Hillary Clinton's participation in it have something to do with that, they insist that controversies about the propriety and reporting of foreign government donations to the Clinton Foundation aren't having an impact.
Also on Bloomberg Politics: Will the Clinton Foundation Come to Haunt Hillary?
While nearly 1,000 business, government, and civil-society leaders are participating, according to a CGI press release that listed among the sponsors Toyota Motors North America, CH2M, Cheniere Energy, Freeport-McMoRan Inc., Noble Energy, The Coca-Cola Company, APCO Worldwide and Diageo, there are fewer high-profile corporate faces on the conference panels.
This year's panelists include the head of the Container Store; the co-founder of Birchbox, an online cosmetics company; the president of Denver-based CoBank, a national cooperative bank serving rural America; the co-owner of Good Cakes and Bakes; the executive director for philanthropy at AT&T; and the vice president of human resources for Harley Davidson Inc.
This year's program doesn't feature Republican presidential hopefuls or major national officeholders. Another notable absence, of course, is Hillary Clinton herself. She spoke at CGI America the last two years, and last year at CGI's more internationally focused annual meeting in New York. Now that she's an announced candidate for the Democratic presidential nomination, she has stepped away from the event co-hosted by her husband, former President Bill Clinton, and their daughter, Chelsea Clinton.
(That doesn't mean the gathering will be utterly lacking in political intrigue: Secretary of Housing and Urban Development Julian Castro, widely seen as a top contender to be Clinton's running mate if she secures the Democratic nomination, will appear at this year's conference, alongside Bill and Chelsea Clinton, on a panel called "The Map of Making it in America.")
Scheduling conflicts
The absence of Republican bold-face names wasn't for a lack of effort by CGI, said Ed Hughes, the group's deputy director. The group decided not to invite presidential candidates from either party, he said, because "we don't want to simply serve as a platform for their agenda." But CGI did reach out to more than a dozen high-profile Republicans, including governors, lawmakers, and former President George W. Bush, all of whom declined, he said, citing scheduling conflicts.
It's tricky to measure how much the presidential contest and resulting critical coverage of the foundation's donations shaped CGI's invitee list or Republicans' thinking about whether to participate. Panelists vary from year to year and there's no list of who was invited and declined.
"Are we hearing direct causation between stories and participation?" Hughes said. "No." But in the course of discussions about participation, Hughes acknowledged that people "sometimes ask questions about 'What's going on? What are the stories we're hearing?'" He didn't identify any individual companies or executives that raised such concerns. He said CGI has been educating participants to ease any concerns. "When you have political reporters trying to interpret philanthropy, it can get a little muddy," he said. Participants "see past the news to see what the benefits are" and "we are not the Hillary Clinton campaign and we are not in any way advancing politics."
"We're getting different news coverage than we have in the past and there's probably awareness of that," Hughes said of participants. "But it's a little myopic to think that's the only calculus through which they make decisions. It starts with what they're trying to accomplish: Do they have an important message or an ability to contribute" to the public good?
Networking opportunity
One of this year's confirmed panelists, Bob Dixson, is the Republican mayor of Greensburg, Kansas, which was devastated in a 2007 tornado. Dixson acknowledged that he may have paused to consider the optics of sharing a stage with the Clintons ahead of 2016. "There's a possibility I went through that thought process," he laughed, but said his belief in the merits of transcending partisanship won out. Dixson, who is scheduled to appear on a June 10 panel at CGI called "Unlocking the Potential of Rural America," said he also has followed with concern some of the coverage of Clinton Foundation fundraising and Clinton's work as secretary of state. "Yes, there's always concern when you hear reports," he said. At the same time, "some of that stuff, it's hard to get to the bottom of it and get accurate reporting. Nothing against the news media, but it's hard to get true news anymore."
Ultimately, Dixson said, he still believes the foundation has credibility and a platform that can help his town. "What I can get out of being in Denver is being able to not only keep Greensburg's name alive and out there for what the story is" but to "offer real hope to other communities of, yes you can change the pattern of where you're at.
"Being able to network with people and hear other people's opinions, those are the important things and not to focus on any real or perceived problems with the Clinton Global Initiative and their contributions."
Scott Winship, a center-right economist with the Manhattan Institute, will participate on a June 9 panel on economic mobility. "I felt like it was a no-brainer to do it," he said. "They are certainly an important organization doing a lot of great international work but also a lot of important domestic work. So it didn't worry me at all, the controversy about their funding."
'Important work'
At the same time, he said of the foundation's fundraising, "I think the concerns are legitimate. It seems pretty clear they weren't reporting sources of their funding the way they should have been." He also was critical of Hillary Clinton's rhetoric, saying that it seems "a little ridiculous" for her to argue that "things are really skewed to the top's advantage" given the speaker fees she and her husband reported.
"I forget how much income per day she and President Clinton make, but they're well into the top 1 percent. So the optics aren't good for her," Winship added. "But I don't think that affects whether they're doing good work or not. I think they're doing important work."
Kip Tindell, CEO of The Container Store and a first-time participant at CGI, said neither the 2016 race nor questions about foundation donations gave him pause and that he is "thrilled" that the Clintons are interested in his causes, including "conscious capitalism" and a movement to provide employees better salaries and benefits. Tindell, who described himself as a political independent and moderate, has made headlines for paying average salaries of $50,000, about twice the national average. He's not yet convinced all of his colleagues on the National Retail Federation, where he is chairman of the board of directors and which has historically opposed federal minimum wage increases. CGI is a forum to help him share his experiences, he said. "I think that they certainly do a lot of great good work," he said of the organization, and added, "It takes money to do it."
Several CEOs or corporate panelist who participated in years past did not return calls for this story. Dan Diaz, a spokesman for The Western Union Company, said while the company hosted CGI's welcome reception in Denver last year and CEO Hikmet Ersek participated, most of the company's engagement and commitments to CGI center around its annual meeting in New York.
Diaz did not respond directly when asked whether 2016 politics or concerns about Clinton Foundation donations will affect Western Union's engagement with the foundation. Instead, he said in an e-mail that the company "is committed to leveraging its financial network to create economic opportunity for people around the world" and that "as part of our normal planning cycle, the company is currently working through sponsorship plans for the second half of the year.
"However," Diaz wrote, "it is likely that we will continue based on our commitment to the NGO global community."
Before it's here, it's on the Bloomberg Terminal.
LEARN MORE