McConnell Signals Doom for Obama's Judicial Nominations
The Republican Senate leader intends to slow-walk White House court picks.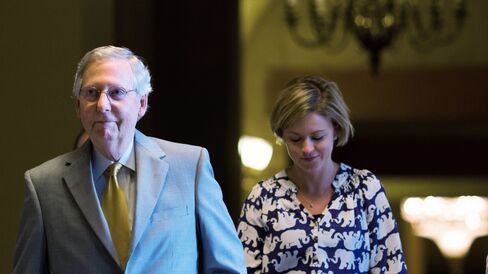 Senate Majority Leader Mitch McConnell suggested Friday to a conservative radio host that President Barack Obama's judicial nominees are going nowhere fast — unless they're blessed by a Republican.
"Well, so far, the only judges we've confirmed have been federal district judges that have been signed off on by Republican senators," the Kentucky Republican said in an appearance on Hugh Hewitt's show.
Will that continue for the remainder of Obama's presidency?
"I think that's highly likely, yeah," McConnell said.
In McConnell's five months running the Senate, just four judicial nominees have received floor votes—all were U.S. district court judges, three in Texas and one in Utah. All were pre-approved by Republican senators, and all were easily confirmed by the Republican-led chamber.
By contrast, the Democratic-led Senate confirmed a total of 132 judges in 2013 and 2014 under the control of Nevada Senator Harry Reid, now the minority leader.
Part of the story is that presidents historically see fewer nominees confirmed in their final two years. But Republicans remain bitter about Democrats invoking the "nuclear option" in November 2013 to eliminate the 60-vote threshold for executive branch and judicial nominees, and enabling of them (other than nominees to the Supreme Court) to be confirmed by a simple majority vote. At the time, McConnell vowed that Democrats would "regret this."
Before it's here, it's on the Bloomberg Terminal.
LEARN MORE