Credit Oregon with Hillary Clinton's Plan to Expand Voting Rights
Presidential candidate sees national policy in new Oregon law.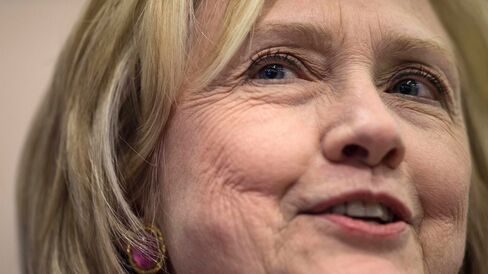 Hillary Clinton wants to make Oregon the model for her proposal to expand access to the ballot box.
On March 16, Oregon became the first state in the nation to make voter registration automatic. The legislation, known as the "Motor Voter" law, will use information collected at the state Department of Motor Vehicles data to automatically register eligible voters.

Speaking in Houston Thursday, Clinton cited Oregon's example and said automatic registration should go national.

Signing her state's registration law, Oregon Governor Kate Brown, a Democrat, said, "I challenge every other state in this nation to examine their policies and find ways to ensure that there are as few barriers as possible in the way of a citizen's right to vote."
Brown introduced in the bill January while Oregon secretary of state, and became Oregon governor the following month.
Kristen Grainger, Brown's communications director, said by phone Thursday that the governor's office hadn't been in touch with the Clinton campaign in advance of the presidential candidate's speech in Houston. But she said the law had received a great deal of attention, in and outside Oregon. "It's landmark legislation in terms of getting more ballots in the hands of more voters," she said.
RELATED: HILLARY CLINTON PUSHES FOR UNIVERSAL VOTER REGISTRATION
Of Clinton, Grainger added, "I think she's holding it up as an example of what works in Oregon and thinks that other states depending on their specific voter laws would do well to engage more voters in the process of public policy making."
Clinton's push to increase polling access is perceived by Republicans as a partisan effort to energize and turn out Democratic minority voters. In Oregon, the Motor Voter measure passed without a single Republican vote, as some Republicans objected that the law amounted to government coercion. Voter registration "should be convenient and very easy, but it shouldn't be the law," said Knute Buehler, a Republican state representative.
For Brown, the law is rooted in the premise that every citizen should be a member of the electorate. Being a registered voter is the default.
"During testimony on the bill, a legislator said to me, 'It's already so easy to register in Oregon, why would we make it easier?'" she told a Los Angeles Times reporter in March. "My answer is that we have the tools to make voter registration more cost-effective, more secure and more convenient for Oregonians. Why wouldn't we?"
Tony Green, spokesperson for the Oregon secretary of state, said by phone Thursday that the law won't be implemented until January 2016. Asked how many voters would be registered through the new system, he said, "The best estimate we have is that there are approximately 800,000 eligible but unregistered voters."
"We've got approximately 75% registered," he said. In most states, at the end of the DMV process, people are asked whether or not they wish to register. "What's going to happen now," Green said, "is when you go to the DMV and provide proof of age, residency, and citizenship, those names will be forwarded to our elections division, which will then send notice to the eligible voter that they will receive a ballot unless they choose not to be registered."
Later in March, California Secretary of State Alex Padilla, a Democrat, said that he was looking at implementing such a law, as well. Grainger, of Brown's office, said Padilla and the Oregon governor had been in touch about moving the policy forward.
"While many states are making it more difficult for citizens to vote, our neighbor to the north offers a better path," Padilla said in a press release. "I believe the Oregon model makes sense for California."
Clinton may think it makes sense for the entire United States.
Before it's here, it's on the Bloomberg Terminal.
LEARN MORE