Houseboat Is Home for Now as Full Sandy Recovery Eludes Chris Christie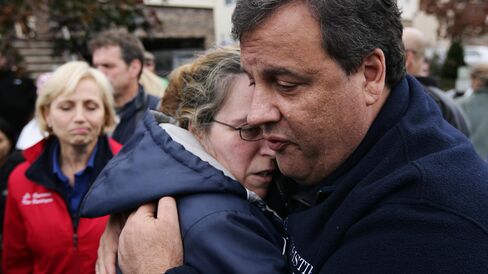 Bill Halbeisen's kitchen tap flows courtesy of a hook-up to a neighbor's lawn hose. For bathing, another buddy obliges with a heated outdoor shower.
Such is life aboard a 35-foot houseboat moored behind Halbeisen's ruined home in Manahawkin, New Jersey, more than 30 months after Hurricane Sandy obliterated Atlantic coastal neighborhoods and catapulted Governor Chris Christie to record approval for his response to the storm.
Now, even as Christie reminds potential 2016 presidential supporters of his hands-on role during New Jersey's costliest natural disaster, some among the thousands of victims living in temporary quarters are trying to derail his political ambitions. They've rallied at the Statehouse and the shore, confronted the second-term Republican at town-hall meetings and even followed him all the way to Iowa to heckle him.
"I wouldn't vote for him for anything," said Halbeisen, 68, a child psychologist whose new home won't be complete for at least six months. "He's done."
Of 40,000 primary homes that were damaged or destroyed by Sandy, 15,000 families were still waiting to rebuild as of January, according to a report by Fair Share Housing Center, a Cherry Hill-based nonprofit group that fights exclusionary residential zoning.
A state program for fixing damaged properties, with grants of as much as $150,000 per homeowner, has 8,300 enrollees. Thirteen percent have rebuilt their homes, according to the state Department of Community Affairs.
Third Year
"We're in Year Three and we've gotten a large majority of our folks back in their homes," Christie told reporters on May 29 in Belmar, where the boardwalk was wrecked and 1,300 homes damaged or leveled. "Until you're back in your home, you don't care who else is back in theirs."
Kevin Roberts, a spokesman for the governor, pointed to the comments made by Christie in Belmar.
The governor has attributed delays to federal rules enacted to prevent a repeat of fraud related to Hurricane Katrina relief, and to a breadth of destruction that resulted in $36.9 billion of costs. The state has dispersed $190 million in rental aid, has approvals for $100 million for property buyouts and has dedicated funding to create more than 5,700 affordable housing units, according to the governor's office.
For months after the disaster, Christie was a constant advocate for victims, working relief lines and starring in a $25 million "Stronger Than The Storm" ad campaign to coax back vacationers. His wife, career bond trader Mary Pat Christie, headed up the Hurricane Sandy New Jersey Relief Fund, mining her Wall Street connections for donations and awarding $37.2 million to 106 nonprofit groups.
Sandy Bounce
Christie raised his national profile after praising President Barack Obama's handling of Sandy and criticizing fellow Republicans in Congress for delaying aid. Within New Jersey, the governor's approval ratings soared to 70 percent.
Last October, two years after the storm, two-thirds of victims were dissatisfied with the recovery, a Monmouth University poll found. At an appearance in Belmar to mark the anniversary, an activist held a sign reading, "Get Sandy Families Back in Their Homes -- Finish The Job" and tried to engage Christie until the governor told him to "sit down and shut up."
At the Iowa Agricultural Summit in Des Moines on March 7, two hecklers were escorted out by police after interrupting Christie to protest the pace of Sandy recovery. "My people follow me everywhere," the governor joked.
Christie's popularity tanked at 35 percent in a Monmouth poll last month, a reflection of New Jersey's laggard economy and the George Washington Bridge scandal.
In January, his annual policy-setting speech made no mention of Sandy, unlike in 2014 and 2013, when resilience was central to his message.
"It's off his radar," Chuck Griffin, 68, a retired nurse, said at a May 28 rally of two dozen displaced Shore homeowners. "Governor Christie has moved on to other things."
Christie has said he will announce a decision on a White House bid by the end of this month. At a breakfast on May 1 at the Northern Virginia Technology Council, he said that Sandy "went a long way toward making me ready" to run for president.
"We're a better state because of it," he said. "Once we get everybody back in their homes I'll be able to breathe a sigh of relief and say, you know: Mission accomplished."
In February, the state announced an offer of rental assistance of as much as $1,300 a month to participants in the rebuilding program. About half the $1.36 billion for construction has been disbursed to those homeowners, Lisa Ryan, a spokeswoman for community affairs, said in an e-mail.
Hot Water
For now, Halbeisen is making do aboard his houseboat. For hot meals, he relies on what may be the world's tiniest microwave oven or the two-burner propane barbecue. The home office is a table and a 5-foot couch serves as filing cabinet, with four boxes holding Sandy files.
Life on the water, he found last year, is good until November, when freezing temperatures force his generous neighbors to cut the outdoor water supply. His house demolition is scheduled for this month, and with luck the builders will replace it before he has to find a short-term rental.
Joe Mangino, 45, one of the Iowa hecklers, said his house in the Beach Haven West neighborhood in Stafford Township was mostly repaired when the family moved out in November for the final step, raising the structure above flood level.
That, he said, was supposed to take just a few weeks. June 4 will mark another blown move-in deadline as Mangino, his wife, two daughters and two cats continue to share one bedroom at a friend's house.
"I look at my driveway -- my kids' bikes should be laying there," Mangino told fellow victims gathered in his front yard. "Instead there's a port-a-potty and construction debris."
Before it's here, it's on the Bloomberg Terminal.
LEARN MORE