Long-Shot Republican Presidential Hopefuls Flatter Rick Scott At Disney World Jobs Summit
In making their pitch, Huckabee, Jindal and others were not exactly subtle.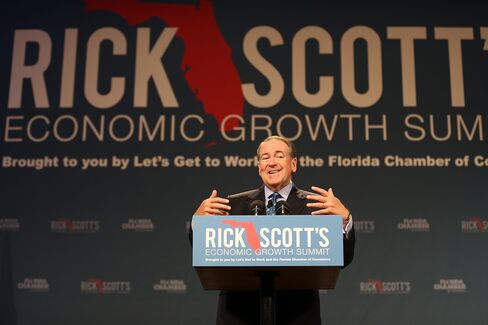 A jobs summit Tuesday held at a Disney World resort in Orlando by Florida Governor Rick Scott was designed for Republican presidential hopefuls to showcase their economic message.
But some long-shot candidates used the event as an opportunity to ingratiate themselves to the invitation-only crowd of several hundred Republicans—many of them business executives who've donated to Scott and others. With such a target-rich environment, some of the candidates didn't even attempt to conceal their intentions.
"Anything I can do to suck up to him and his donors, by God I want to do," Mike Huckabee, the former governor of Arkansas and a declared presidential candidate, said of Scott. He heaped praise on the governor throughout his speech, and the pro-Scott crowd ate it up.
Rick Perry showered praise on Florida's economy at his own expense.
"Governor Scott likes to tell people that the reason I announce in June of 2013 that I was not going to run for office again was because I didn't want to be the governor when Florida passed Texas up as the job-creation capital of the world. And it's true," he said. "He will admit that he said that."
Louisiana Governor Bobby Jindal quipped that the way to succeed at events like the one he was speaking at was to "pander both to the crowd and to the host. But you can't do it obviously or very explicitly."
Then Jindal proceeded to do it both obviously and explictly: "If I were elected president of the United States," he said to loud applause, "I would turn around America's economy the same way that Rick Scott has turned around the economy for the state of Florida."
Each of them fed the crowd a standard helping of anti-government conservative red meat: taxes must be cut, regulations must be eliminated. Huckabee assailed the Dodd-Frank financial reform law as "a piece of insanity" and called for erasing all federal income and corporate taxes. Perry called for reducing federal power and empowering states. Jindal declared that Bill Clinton's "biggest lie" wasn't about Monica Lewinsky but rather his declaration that "the era of big government is over."
Perry and Jindal commended Scott for rejecting Medicaid expansion under Obamacare. Neither has announced their 2016 plans as yet.
The pro-Scott pandering wasn't as apparent from Wisconsin Governor Scott Walker and Florida Senator Marco Rubio (who spoke by video from Washington), two top-tier contenders whose speeches closely echoed their usual messages on the campaign trail.
Jeb Bush, a leading potential candidate, also praised Scott and the direction that he has taken in his home state. "I'm really proud to have been governor of this state for eight years and I'm proud of the work that Governor Scott has done as well," he said, earning some easy applause before turning to his own record.
Before it's here, it's on the Bloomberg Terminal.
LEARN MORE