A Win for Rand Paul: Nevada's Republicans Stick With the Caucus
The fourth GOP contest will be an activist affair.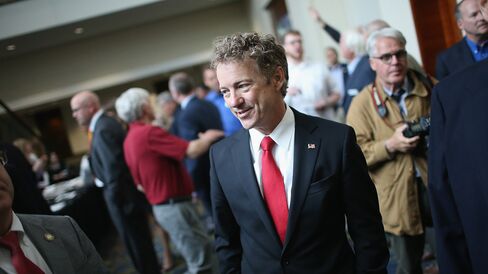 Today, Nevada's Republican-run legislature failed to advance a bill that would have given parties the choice of replacing their 2016 presidential caucus with a presidential primary. There was no spinning it: The impasse was a victory for Kentucky Senator Rand Paul. Supporters of former Florida Governor Jeb Bush hoped to junk a low-turnout caucus for a generic primary, and fretted that failure would strengthen the activists who have flocked to other candidates.
"I would have preferred a primary," said Nevada Senator Dean Heller in a short interview in the Capitol. "You can't be the fourth state and limit participation to 5 or 7 percent of the population."
Seven years ago, when an effort led by Nevada Senator Harry Reid pushed the state into the first batch of presidential candidates, few people imagined what it would mean to former Texas Congressman Ron Paul's "liberty movement." In January 2008, Paul supporters managed a second-place finish, far behind former Massachusetts Governor Mitt Romney but good enough to embarrass the fading former New York Mayor Rudy Giuliani. Later that year, Paul supporters built a base inside the state party that's never really been dismantled. In 2012, Ron Paul won 19 percent of the caucus vote—a disappointment, but not enough of one to keep his supporters from winning most of the state's delegates to the Republican National Convention. (At the time, delegates were awarded at sleepy local conventions, not the caucus itself.)
Nevada's large Mormon population powered Romney to some of his biggest wins in either race. No candidate is so dominant in Nevada this year. That was one reason why Paul included Nevada on his launch tour, and has been aggressively working the state. If he falters in Iowa, New Hampshire, and South Carolina, a Nevada caucus would provide one more chance to pull out a "liberty" coalition win.
"His Nevada guys (same dudes who ran Ron's here) were all over this," Nevada political reporter Jon Ralston explained in an e-mail. "They think they have an advantage in caucus. They do have many members on state central committee and the ear of the chairman. But one caveat: They talk a lot about what they can do, but look at the results here. If they have it locked down, why did Ron fare so poorly? Yes, LDS vote for Romney. But night before in 2012, [Ron Paul 2012 Nevada manager] Carl Bunce predicted they had it. Not so much."
For the moment, key Republicans are acknowledging that Rand Paul has an inside track in Nevada. "Rand's dad did quite well there, and I would anticipate Rand to do quite well himself," said Heller. "I'm going to guess that it leans in favor of Rand, just based on the make-up of today's state party."
Before it's here, it's on the Bloomberg Terminal.
LEARN MORE