Watch the Father-and-Son Bond of Joe and Beau Biden in 5 Videos
They both had a chance to talk about the good and the bad times over the years.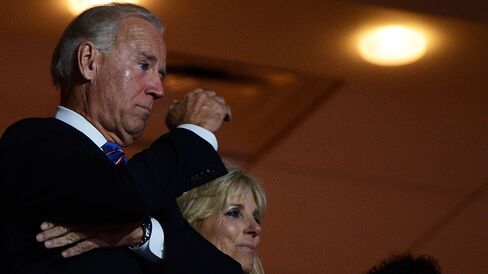 Vice President Joe Biden's son Beau died on Saturday at age 46 after suffering from brain cancer. Here are five moments when they talked about each other, their family, and their bond.
1. The 2008 vice presidential debate
Debating against Republican vice presidential candidate Sarah Palin, Joe Biden became emotional talking about his experience as a single father after the death of his wife and daughter in a car accident. His two sons, including Beau, were injured in that same car accident, which immediately followed Biden's Senate victory. "The notion that somehow because I'm a man I don't know what it's like to raise two kids alone, I don't know what it's like to have a child you're not sure is going to, is going to make it, I understand. I understand, as well as, with all due respect, the governor or anybody else what it's like for those people sitting around the kitchen table," he said.
https://www.youtube.com/watch?v=pwFTNKFcwnE
2. Beau Biden introducing his dad at the 2008 Democratic National Convention
Joe Biden was also overcome with emotion when his son introduced him at the 2008 Democratic National Convention, telling the crowd that he knew their future vice president as "an incredible father and a loving grandfather, a man who hustled home in Delaware after the last vote so that he wouldn't miss me and my brother's games. " He also told the group the story of the car accident, and how his father intended on giving up his newly won Senate seat, saying at the time that "Delaware can get another senator, but my boys can't get another father." Prominent Democrats of the day like Ted Kennedy and Hubert Humphrey persuaded Biden to accept the position, and he was sworn in at his children's bedside.
https://www.youtube.com/watch?v=CEtbBSwR7SE
3. Beau Biden nominating his father at the 2012 Democratic National Convention
Beau Biden nominated his father at the 2012 convention, saying, "Four years ago, I told you that my father has always been there for me, for my sister, and that as vice president, he would be there for you. And he has. I've seen it."
https://www.youtube.com/watch?v=MnE6HHH_50E
4. Beau Biden defends his father after the 2012 vice presidential debate
After Joe Biden was criticized for his body language during his debate against Wisconsin Republican Representative Paul Ryan, Beau Biden appeared on ABC's This Week, saying, "I'm happy to defend my dad. I don't think he needs any defense in this. Any time the other side, Karl Rove or folks on the far right are going after my dad for smiling too much, you know that's a victory."
https://www.youtube.com/watch?v=4tQLKPtf6nI
5. Joe Biden talking about family tragedy at Yale commencement
Last month, only a few weeks before his son's death, Biden talked about the car accident at Yale College Class Day, saying, "Six weeks after my election, my whole world was altered forever. While I was in Washington hiring staff, I got a phone call. My wife and three children were Christmas shopping, a tractor trailer broadsided them and killed my wife and killed my daughter. And they weren't sure that my sons would live. Many people have gone through things like that. But because I had the incredible good fortune of an extended family, grounded in love and loyalty, imbued with a sense of obligation imparted to each of us, I not only got help. But by focusing on my sons, I found my redemption." Later, he talked about commuting between Washington and Wilmington every day as a senator to see his boys. "Looking back on it, truth be told, the real reason I went home every night was that I needed my children more than they needed me," he said.
https://www.youtube.com/watch?v=excEkQX1_kQ
Before it's here, it's on the Bloomberg Terminal.
LEARN MORE