Rand Paul Takes Campaign to Barack Obama's Chicago Turf
The Kentucky senator makes a campaign stop on the Windy City's South Side.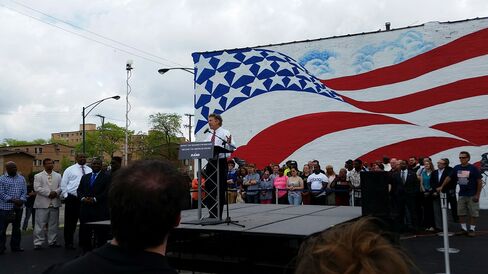 Rand Paul took his unconventional Republican presidential campaign to Barack Obama's political home base with a visit to a Chicago ward that voted 98.5 percent for the president in 2012.
The Kentucky senator used the setting to argue for tax cuts for inner-city America, more lenient drug sentencing penalties and fresher approaches to poverty.
"If we want things to be better, you're going to have to look for something new," Paul told a midday crowd of about 100 on Chicago's South Side. "We can't keep doing the same thing over and over again."
After his remarks, the senator declined to respond to a question from Bloomberg about criticism leveled earlier in the day by governors Chris Christie of New Jersey and Bobby Jindal of Louisiana about Paul's opposition to renewal of the Patriot Act.
Later, during a downtown appearance sponsored by the Illinois Policy Institute, Paul received applause when he asked about his opposition to National Security Agency surveillance activities.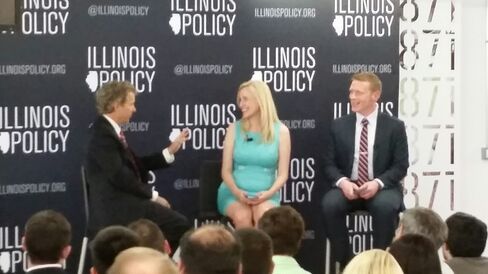 "I'm not against spying," he said. "I'm just against spying indiscriminately against Americans."
Paul's first event, outdoors and along Martin Luther King Drive, was less than a mile from one of the parks being considered for Obama's presidential library and museum. The 20th Ward, where Paul spoke, is roughly three-quarters black.
It's the kind of event that Paul has made a staple of his political portfolio in recent years, as he's tries to sell himself as a Republican with the potential to attract voters not typically drawn to his party.
Gospel music blared ahead of his arrival in a parking lot across the street from the church led by pastor Corey Brooks, who also supported Republican Governor Bruce Rauner in his 2014 campaign.
"If we are honest, the machine, the system, whether it's ran by the Democrats or whether it's ran by Republicans, has not been too fair, not too good, to people here on the South Side of Chicago and in urban cities across America," Brooks said as he introduced Paul.
The presidential candidate's visit followed a deadly Memorial Day weekend in Chicago when 12 people killed and 44 people wounded in gun violence. Paul didn't address gun control, but did try to show he could relate.
"In my little town in Kentucky, a white woman cut a baby out of another white woman, so there's crime going on all across America," he said. "It is not a racial thing. It is a spiritual problem."
Paul made no mention of Obama or Chicago Mayor Rahm Emanuel, the president's first chief of staff, during his remarks.
As he pitched his plan for "economic freedom zones," Paul cited a now-closed McDonald's that he said he walked past with before the event.
"What I would like to do for that McDonald's is lower their taxes," he said. "I would lower their taxes dramatically. But you have to realize I would lower them for the workers and the owners."
Modeled loosely on the "enterprise zones" pushed by former President George H.W. Bush's housing secretary, Jack Kemp, Paul's plan includes a similar set of breaks.
Paul, who polls show in the middle of a crowded 2016 Republican field of declared and likely candidates, was scheduled to headline a Republican Party dinner in suburban Chicago on Wednesday evening. On Thursday, he heads to events in Iowa.
Before it's here, it's on the Bloomberg Terminal.
LEARN MORE