Mike Huckabee Bows Out of Iowa Straw Poll
The former Arkansas governor came in second in 2007 before winning the caucuses in 2008.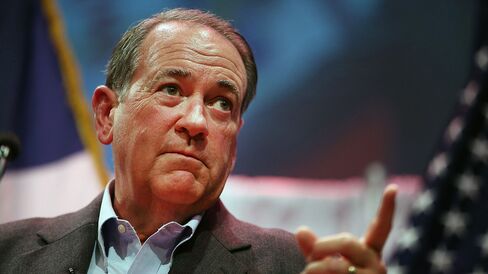 Republican presidential contender Mike Huckabee will not participate in the Iowa Straw Poll, the Des Moines Register reported Thursday.
"I have concluded this year's Iowa Straw Poll will serve only to weaken conservative candidates and further empower the Washington ruling class and their hand-picked candidates," the former Arkansas governor wrote in a Register op-ed, according to the newspaper.
Huckabee, who won the Iowa caucuses in 2008 after coming in second during the 2007 straw poll, is the latest Republican to say no to the event. Former Florida Governor Jeb Bush's team said last week he would not take part. Critics of the straw poll, which the Iowa GOP is holding in August, say it gives an advantage to extreme candidates and forces all of them to spend too much money jockeying for position in the unscientific survey.
Observers will now look to whether top-tier candidates Marco Rubio, a Florida senator, and Scott Walker, the Wisconsin governor who hasn't formally joined the race yet, will commit to the event, the Register said. Huckabee's move is likely welcome news to Texas Senator Ted Cruz, Louisiana Governor Bobby Jindal, and former Pennsylvania Senator Rick Santorum, social conservatives expected to target the evangelical vote, according to the newspaper.
Jindal said Thursday on MSNBC's Morning Joe that he would "spend a lot of time in Iowa" if he decides to run. He didn't say whether or not he would attend the straw poll.
—Ben Brody contributed reporting.
Before it's here, it's on the Bloomberg Terminal.
LEARN MORE