Two Former Leaders of the Free World Sitting Around Chatting
Bill Clinton and David Letterman go down memory lane.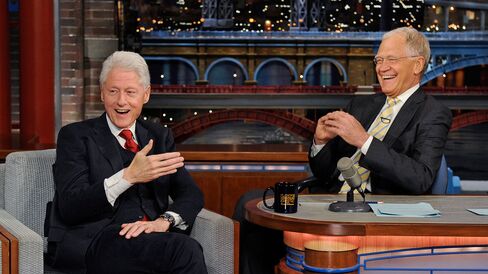 When former President Bill Clinton was introduced as a guest on Late Show With David Letterman on Tuesday night, he was greeted with an extended saxophone solo from Paul Shaffer and the CBS Orchestra. The callback, of course, was to Clinton's most famous talk-show appearance of all time, on Arsenio Hall's show back in 1992.
https://www.youtube.com/watch?v=X4DrHK4ErUI
In retrospect, it seems sort of insane that we found Clinton's saxophone so cool at the time. Even in 1992, the saxophone was on its way out of popular music, on its downward culture trajectory into the realm of Sergio! But Clinton, as always, could read the political winds better than anyone: It wasn't just the act of putting some sunglasses on and playing "God Bless the Child" and "Summertime"; it was the fact that he did it on the Arsenio Hall show, the hot show at the time, with the cool, hip, young, black host who was best friends with Eddie Murphy and had N.W.A. as guests.
If Clinton had gone on The Tonight Show with Johnny Carson, his sax-tooting would have been seen as lame, elderly; it was the savvy decision to do it on Arsenio's show that made all the difference. (It's probably best he didn't go on Letterman's Late Night to make his mark: He might have put on a Velcro Suit.
On Tuesday night, Letterman, a student of late night as much as he is its patron saint, called Clinton's Arsenio appearance "a big, big political culture moment" that helped Clinton win his first term in office; Clinton, amusingly, smirked, "Yeah, [I won] probably because I could play the horn." (It's worth noting that I don't remember ever seeing video of Clinton playing the saxophone again after that.) And then the duo got down to their old-man routines that each has settled into these days, talking about Buddy Guy, growing up in an age before CDs, and grandchildren.
It shouldn't be surprising that Clinton speaks with depth and feeling about being a grandfather, fawning over the awe of watching a seven-month-old "wake up to the world," but still: This is Bill Clinton, America's Boomer id, and it does feel a little strange thinking of him as a grandfather. (For some reason, it feels less strange than thinking of Hillary Clinton as a grandmother.) But this is the progression of Bill Clinton just as it's the progression of Letterman: While the younger kids elsewhere are making viral videos of Sia songs, they're chattin' about the blues, grandbabies, and the good ole days. It's a different world now.
After a recitation of achievements in battling HIV in Africa by the Clinton Foundation, and a surprisingly cogent and intelligent conversation about the "knife-edge" proximity of poverty and childhood obesity, the conversation inevitably turned to Hillary and the 2016 campaign. Letterman, with not much time left in the appearance, sneaked in a "what's the percentage that you move back into 1600 Pennsylvania Avenue?" just under the buzzer, and Bill smiled. The answer was perfectly Clintonian, vaguely shifty, but ultimately, after a dive into process, sort of charming. "First Hillary has to win the primary. If she wins the primary, she has to win the election. If she wins the election, there's a 100 percent chance I move back," he said. Then he paused for effect. "If I'm asked."
It still feels odd to imagine Bill Clinton—Bill Clinton! The greatest politician of our time!—as the First Dude in the White House. But this is a different Bill, a more relaxed one, with less to prove. He closed with Letterman on the grandchild. "It's funny how your perspective changes; I think having a grandchild made a big difference," he said. "We just sort of try to wake up every day in a good humor and be grateful. I urge her to just go out there and have a good time … we've had a wonderful life. We're just grateful." If she takes that advice—if that's humanly possible—if she just goes out there and has a good time, it would be a different Hillary than we've ever seen before. But grandbabies can make quite the difference.
Before it's here, it's on the Bloomberg Terminal.
LEARN MORE