Marco Rubio Channels A Bush-Era Foreign Policy
The Republican presidential contender takes an idealistic—and interventionist—view of America's role in the world.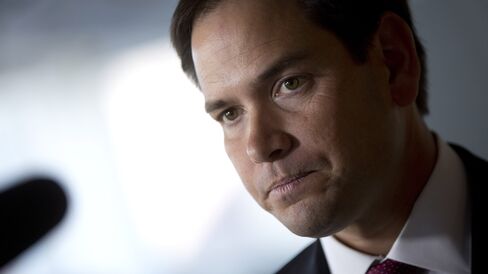 Republican presidential candidate Marco Rubio is offering a foreign policy doctrine that broadly reflects the worldview of the George W. Bush administration in the wake of the September 11, 2001 terrorist attacks, according to experts.
Conservative foreign policy hawks offer rave reviews of the Florida senator, who fleshed out his philosophy in a speech Wednesday at the Council on Foreign Relations in New York. He touted three core pillars—a bigger military, the use of American power to preserve international order and an attempt to spread "superior" American aims like "economic and political freedom" around the world—capping a transformation to ultra-hawk.
Taking repeated swipes at President Barack Obama's foreign policy, Rubio suggested that it has not lived up to the nation's ideals or history as a world leader.
"While America did not intend to become the world's indispensable power, that is exactly what our economic and political freedoms have made us," he told a capacity crowd in Manhattan. "The free nations of the world still look to America to champion our shared ideals. Vulnerable nations still depend on us to deter aggression from their larger neighbors. Oppressed peoples still turn their eyes toward our shores, wondering if we hear their cries, wondering if we notice their afflictions."
He took a swipe at Hillary Clinton, arguing that Obama's former secretary of state mirrors his worldview.
"We simply cannot afford to elect as our next president one of the leading agents of this administration's foreign policy," he said, "a leader from yesterday whose tenure as Secretary of State was ineffective at best and dangerously negligent at worst."
Within the Republican Party, the core foreign policy debate is between the Bush-era view that the United States must use its power to spread democracy and human rights around the world, and a "realpolitik" approach that seeks to use power for practical rather than moral reasons.
Rubio embodies this "expansion of democracy and human rights" viewpoint, while Texas Senator Ted Cruz reflects the "realpolitik" approach, said Elliott Abrams, a national security adviser in the Bush administration. "I think this is a division."
The moral viewpoint that Rubio reflected in his speech Wednesday tracks that of the last Republican president, said Abrams. His former boss concluded that "it was a problem" if a "lack of political and economic opportunities" led to "societies that were producing terrorism," he added.
In his speech, Rubio vowed to "support the spread of economic and political freedom" and use American power to "advance the rights of the vulnerable, including women and the religious minorities that are so often persecuted."
Danielle Pletka, senior vice president for foreign and defense policy studies at the American Enterprise Institute, agreed that on foreign policy, there is a moralist-versus-pragmatist dichotomy within the Republican presidential field.
"I think Senator Rubio believes firmly in American leadership. Not just economic, political and military—but moral leadership," she said. "I think you will see some—[Kentuky Senator Rand] Paul, to a certain extent Cruz, taking a more hands off, more realist approach in contrast to certainly Rubio but probably others who have not yet declared."
Where the candidates will come down in this moral-versus-pragmatic approach is the top question on the minds of Republican foreign policy thinkers. As Republicans have coalesced around a muscular foreign policy in the wake of the rise of the Islamic State militant group, Abrams and Pletka both noted, Paul has shifted away from his signature non-interventionist views.
"In the last year we've seen [the Islamic State], we've seen beheadings of Americans, we've seen things like the burning of the Jordanian pilot—these really reminded Americans, particularly Republicans, that there are dangerous people out there who want to kill Americans," Abrams said. "So to the extent that it means using American power, I think all the Republicans are there."
Rubio has used his perch on the Senate Foreign Relations Committee to serve as a leading critic of Obama in recent years, something that has endeared him to Republican hawks. It has also distinguished him from top-tier rivals like former Florida Governor Jeb Bush and Wisconsin Governor Scott Walker, who have not directly engaged in foreign policy.
"I like Marco Rubio a lot, but I'm a very unusual person—I care first and foremost about foreign policy," Pletka said. "Many Americans believe the Senate doesn't prepare a person to be president, and there are very, very few single issue voters, especially on foreign policy."
Before it's here, it's on the Bloomberg Terminal.
LEARN MORE