Manhattan Moguls, Including Beyonce, Turn out for Hillary Clinton
Her presidential listening tour has taken a bit of a detour into tonier precincts.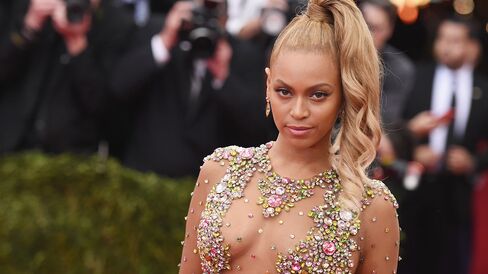 When Hillary Clinton's presidential campaign launched a month ago, the candidate and her aides stressed that the focus of the first few weeks of her bid would be on starting the arduous process of earning the support of voters in key states.
She billed herself as a champion of "everyday Americans" and took an ostentatiously downmarket approach to her campaign rollout, boarding a van instead of a plane, stopping at fast food restaurants, and hosting small roundtables.
Since then, Clinton's presidential listening tour has taken a bit of a detour into tonier precincts.
On Wednesday, Clinton was hosted by two big names from finance—Marc Lasry and Steve Rattner—and one from the entertainment industry, L.A. Reid.
Lasry, co-founder of the $13.3 billion investment firm Avenue Capital Group LLC, told Bloomberg he was expecting as many as 150 people to gather at his Upper East Side townhouse Wednesday night.
"My friends will be coming," said Lasry, who's also a co-owner of the Milwaukee Bucks. Among those who were expected: York Capital Management president Jeff Weber; Paul Weiss private funds group co-head Marco Masotti; and Blair Effron, co-founder of advisory firm Centerview Partners. Lasry told Bloomberg last month that he planned to raise $270,000 during Clinton's first week in the race.
"I think she will best represent this country and do what's right for everybody so therefore I will do whatever I can to help her," said Lasry, who's also supported the Clinton Foundation and President Barack Obama's campaign, and whose hedge fund firm employed Chelsea Clinton from 2006 to 2009. "It's nothing more complicated than that."
Earlier in the day, Rattner and his wife, Maureen White, hosted a lunchtime event for 135 at their Fifth Avenue apartment overlooking Central Park. Rattner is Obama's former car czar and the chairman of Willett Advisors LLC, the investment arm for the personal and philanthropic assets of former New York Mayor Michael Bloomberg, founder and majority owner of Bloomberg LP, parent of Bloomberg Media. Attendees at the Rattner event were expected to include Harold Ford Jr., a one-time Democratic congressman from Tennessee now with Morgan Stanley; Larry Rockefeller, scion of the fabled oil fortune; international lawyer Candace Beinecke; and Eva Andersson-Dubin, a physician who co-founded a breast cancer center at Mount Sinai Hospital with her husband Glenn, a billionaire investor.
Reid, the chairman and CEO of Sony Music Entertainment's Epic Records, and his wife, Erica, hosted 120 people on Park Avenue in the early evening. Pop megastar Beyonce, TV personality Sharon Osbourne and "All About that Bass" singer Meghan Trainor attended the Reids' fundraiser, according to a source familiar with the guest list.
In all, with each attendee expected to give $2,700, Clinton was poised to take in about $1.1 million on Wednesday.
After completing her three-fundraiser tour of Manhattan, the Democratic presidential frontrunner has now appeared at 16 such events that have been confirmed by her campaign. At each, crowds have usually hovered around 100 but have gotten as large as the close to 500 people who gathered last Thursday on Power Rangers creator Haim Saban's Beverly Hills lawn. She's also had a few small private meetings with potential donors to Priorities USA Action, a super-PAC backing her.
Clinton advisers had stressed since before her announcement that the initial phase of her campaign, continuing through most of May, would "ramp up" to a big rally and a more robust agenda of travel and outreach. Some fundraising was always supposed to be part of the plan, but her focus was to be on reintroducing herself to voters and starting to weigh in on issues.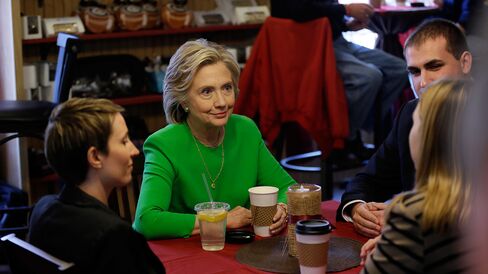 She's done some of that, of course, but she's already spent more time—seven days—making her way through the mansions and penthouses of New York, Washington, and California, addressing a few thousand of the country's wealthiest Democrats and taking in seven-figure sums in federally mandated $2,700 increments. By comparison, Clinton has spent six days on campaign events: three in Iowa, two in New Hampshire, and one in Nevada.
But with the pressure for cash impossible to ignore, Clinton started adding fundraising events to a modest schedule as her circle began solidifying the role of Priorities USA Action and reimagining Correct the Record as a second pro-Clinton super-PAC that could break new ground with its plans to coordinate closely with her campaign. Meanwhile, she has remained outside of the view of "everyday Americans." Clinton's most recent public event was more than a week ago in Nevada; the last time she answered questions from reporters, came more than three weeks ago in Keene, N.H. Clinton's silence on key issues is beginning to draw attention, as her Democratic presidential rival pointed out Tuesday on Bloomberg's With All Due Respect.
Fundraising was always going to be a central part of Clinton's early schedule—it has to be for any major candidate—but she and her team had planned to spend the early weeks of her candidacy focusing on the kinds of fundraising that fit with her broader message.
Campaign manager Robby Mook said in a Tuesday e-mail to supporters that 90 percent of donors had given $100 or less to the campaign. But there's already a small core going as far is it can, maxing out at $2,700 for the primary, scrambling to raise tens of thousands more and flirting with super-PAC contributions.
As the campaign launched, Clinton's team said it would focus on solidifying smaller checks and rewarding which emphasized smaller donors and bundlers—people who could bring in $27,000 in checks from 10 or more donors. Some of them will be rewarded with invitations to a "finance leadership summit" on Thursday in New York.
—Max Abelson and Jeffrey McCracken contributed reporting.
Before it's here, it's on the Bloomberg Terminal.
LEARN MORE