New York Tabloids Blare at de Blasio's Frequent Flying
New York's mayor is spending a lot of time outside his City as he tries to jumpstart a national conversation on inequality.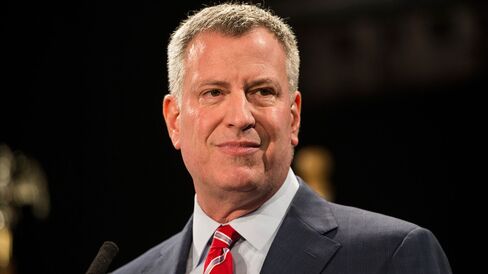 New York City Mayor Bill de Blasio is introducing his report on income inequality in America at the National Press Club Tuesday along with Massachusetts Senator Elizabeth Warren. Then he'll find a photo opportunity beside the steps of the U.S. Capitol building, where public officials, labor leaders, and other progressives—including name-in-bright-lights Susan Sarandon, and name-in-dark-lights Steve Buscemi—plan to sign on to de Blasio's Gingrichian "Contract With America." Then he jets off to California, where he will decry inequality among the wealthy disruptors and entrepreneurs of Silicon Valley. A political nonprofit called the Campaign for One New York, which promotes de Blasio's platform, is bankrolling his trip to the West Coast.
By the time he gets back to Gracie Mansion, the mayor will have spent 10 of the past 31 days out of town, at least for some of the day, according to the New York Times. In the past six weeks, he's been to Nebraska, Wisconsin, and Iowa, plus Puerto Rico, for a short vacation. Then there are college visits with his teenage son. (Dante has chosen Yale.) He'll be speaking in California at Santa Clara University, where his daughter is in school, and at the University of California Berkeley.
Back home, the New York Post pounced on all the traveling with a one-two punch of a headline: "Violent crime soars, de Blasio splits town". Post columnist Bob McManus piled on, deeming this "the wrong time for Bill de Blasio's road show." Citing tensions with the police, "opportunists" in the education department, turmoil in Albany, detailing what he calls the mayor's "oops" moment, McManus scolded, "All this at stake, and Bill de Blasio's eyes are fixed firmly on—Iowa? Amazing." (Also: "Bill fiddles, dawdling over a take-out hamburger in City Hall Park—as he did last week while the City Council sat waiting for a mayoral budget briefing.") The New York Daily News dubbed him "City Hall's most frequent flier."
It isn't new for the Post to criticize the city's Democratic mayor, but the criticism doesn't always reach up to the man himself—or to the Times, which noted that, while de Blasio hardly invented mayoral wanderlust, he is "pursuing his extracurricular activities at a notably early stage of his mayoralty."
On Monday, de Blasio found himself addressing the concern. Speaking to reporters in Queens, he said, "Mayors before me have understood it the same way: They've had to speak to national issues, while making sure things work here every day. My job is to do both."
This may not mask the fact that de Blasio seems eager to affect the 2016 presidential race—not that he's hiding it. Announcing his vision to address income inequality at Gracie Mansion last month, the mayor spoke of a presidential forum where candidates would be held to task. He spoke of changing the national conversation, and changing the politics of the whole country.
Of course, whether you like the size of the britches the mayor wears in and out of N.Y.C. will have a lot to do with what you think of the mayor's policies.
Before it's here, it's on the Bloomberg Terminal.
LEARN MORE