Jeb Bush: I Would Have Authorized Iraq Invasion
And he says he would have been in Democratic presidential front-runner Hillary Clinton's company.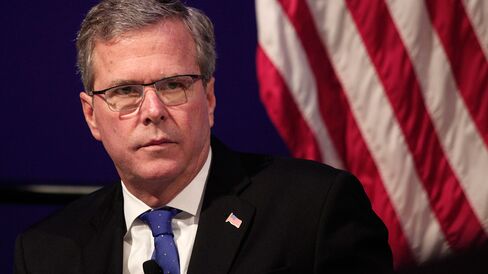 Likely Republican presidential candidate Jeb Bush says that he would have authorized the Iraq War—and that it would have put him in Democratic front-runner Hillary Clinton's company.
"I would have, and so would have Hillary Clinton, just to remind everybody, and so would almost everybody that was confronted with the intelligence they got," the former Florida governor said in an excerpt of an interview with Fox News's The Kelly File published Sunday. As a senator, Clinton voted in favor of the invasion in 2002, a vote she has since said she regrets.
Bush's comments come as he faces questions about how different his own foreign policy would be from his brother's. While earlier this year Bush said he is his "own man," he reportedly said more recently that he would count his brother among his advisers on certain foreign policy matters. In the Fox interview, Bush said his brother has acknowledged the mistakes that followed the invasion.
"By the way, guess who thinks that those mistakes took place as well? George W. Bush," he said. "So just for the news flash to the world, if they're trying to find places where there's big space between me and my brother, this might not be one of those."
Before it's here, it's on the Bloomberg Terminal.
LEARN MORE